Rio Grande, Tierra del Fuego – Argentina
If not for the spectacular fly fishing for huge sea-run brown trout in the Río Grande, just experiencing the solitúd and beauty of this Tierra del Fuego would be sufficient reason to visit. This remote island is much the same as it was in 1520 when Magellan saw it for the first time. Outside of the cities of Ushuaia and Río Grande, it is only sparsely populated in a handful of large ranches and a few small towns. Here your only company while fishing will be your guide and the livestock and wildlife including guanacos, condors, eagles and Magellan geese. 
THE FISHING
There is no other place on earth where you will find such numbers of large sea-run brown trout. According a 3 year study by the University of Montana, the average size of the sea trout is over 9 lbs and 20% of the fish weigh over 15 lbs! One in every 50 fish will weigh in at over 20 lbs. Considering that most fishermen will catch an average 4 to 5 fish a day during prime time, you have pretty good shot at hooking a 20+ pounder during a week long stay.
On the other hand, up until recently the sea trout were almost the exclusive focus of visiting anglers. However, over the last decade chinook salmon began showing up in ever increasing numbers having made their way around the tip of South America from the Chilean rivers. A handful of visiting anglers are beginning to come specifically for the Chinook fishing In November and December.
From October to December, guests usually experience the best dry fly fishing for resident trout. The first sea-run brown trout begin to appear in November. November and December are also prime time for chinook salmon fishing which just keeps getting better. More sea-run browns continue showing up until reaching the peak of the run in February. Prime time for sea-run brown trout fly fishing is usually from the end of January until mid March, although fresh fish continue to enter the river until the end of the season in mid April.
If swinging flies for big fish is your thing, it is hard to find a better river. To cover it adequately a 7 to 9 weight two hand rod is the tool of choice, especially when the wind picks up.  If there is one thing you can bet on in Tierra del Fuego is that you will have wind, and it can be very strong. It doesn't seem to bother the fish though, and the guides are well versed in finding the best spots to allow you to fish with the wind at your back. Most of the time streamers and nymphs will be most effective, but during the middle of the summer when the wind dies down dry flies can also raise fish.
THE LODGES
Aurelia Lodge
Aurelia Lodge which is part of 15,000 hectar ranch, offers exclusive access to a total of 9 km of the Río Grande and another 25 km of its tributary the Menéndez River, a smaller river that receives a good number of the the Rio Grande's returning sea trout. Aurelia was licensed  on these waters by the local government of Tierra del Fuego, alloted them exclusive rights to both banks of the two rivers on the ranch's property. Aurelia limits the fishing to just 4 rods to make for a very high quality experience. 
Kau Tapen
Kau Tapen is a legendary lodge in Tierra del Fuego, as it was the first lodge built on the island. It offers  a maximun of 10 to 12 fishermen private access to 16 kilometers of the Río Grande. Its waters include some of the best pools in the river where multi-fish days are the norm for clients. The lodge itself can accommodate up to 12 guests in 10 bedrooms with on suite bathrooms. After the day's fishing guests can relax next to the fireplace in the large stylishly furnished living room with spectacular vistas of the Menendez and Rio Grande Valleys. Kau Tapen is also known for excellent service and fine dining. Should guests need any gear, there is also a tackle shop at the lodge with a selection of quality equipment, flies and any accessories that may be needed. There is also a well stocked fly tying table available for guests to use.  
Villa Maria Behety and Estancia Maria Behety Lodge
Located on the historic ranch established by the Menendez family in Tierra del Fuego, Villa de Maria Behety is considered by many to be the best fishing lodge in all of Argentina. Guests are lodged in the Menendez family's restored mansion in single bedrooms with on suite bathrooms and radiant floor heating. They enjoy the wines from the lodge's priveleged collection accompanying excellent meals prepared by one of the best chefs on the island.  está considerado por muchos como el mejor lodge de pesca de Argentina.  Before or after dinner guests can relax with a drink next to the fireplace in a comfortable lounge area, shoot some pool in a seperate biilard room, or soak in the jacuzzi. A second lodge, the Estancia María Behety lodge also offers excellent services with lodging in double rooms at a lower price point. Guests at both lodges will have access to a total of 102 pools in over 50 kilometers of the most productive section of the river. It is by far the largest selection of any lodge on the Rio Grande. 
Villa María Lodge
The Villa María Lodge is located on the banks of the Río Grande on one of the largest active ranches in Tierra del Fuego. It is just above the area of tidal influence and many sea trout will stop to rest in its pools before heading upstream. Because of its location it is an ideal spot to ambush fresh fish that have not yet seen a fly. The norm for visiting fishermen is a couple of fish per day, but they will often also experience days of 6 to 8 sea trout and usually every week someone at lodge will catch a huge sea-run brown trout weighing 20 lb or more. 
We recommend two hand 7 to 9 wieght rods with a variety of lines from full floating to medium and fast sink. A scandi line with interchangeable tips of different weights can be a practical solution for much of the season and for early or late season high water conditions a skagit with heavy sink tips down to a T14 or sometimes even a T18. If you prefer a one hand road, bring a selection of lines from floating to medium and fast sinking lines. For example a floating line, a Teeny T-130 a T-200 and T-400 should cover just about any situation.  
For flies, in addition to traditional salmon and sea trout flies we recommend a selection of Intruder type tube flies, bunny flies , woolybuggers, zonkers and muddler zonkers. Effective colors include black, purple, charetreuse, orange and white. Large nymphs in hook sizes 4 to 10 in a variety of colors can also be very effective.
We partner with various excellent lodges which are designed for the comfort of visiting fishermen. All of them offer all inclusive programs, except for equipment, flies, fishing licenses and in some cases alcoholic beverages. 
Guests usually fly into the Buenos Aires International Airport at Ezeiza. From there usually they will be transferred on Aerolineas Argentina's  free shuttle bus to the domestic airport, Aeroparque Jorge Newberry for the direct flight to the town of Rio Grande. There guests are received by the corresponding lodge's staff and transferred to the lodge by road.  
Location: The Río Grande  is located on the island of Tierra del Fuego at he southern extreme of Argentina, in the province of Santa Cruz.
Season: November – April
Best dates: November and December for chinook salmon
Mid January to mid March for sea trout
Nº of rods allowed: N/A.
Fishing techniques allowed: Fly only
Species available: Sea-run and resident brown trout, chinook salmon and rainbow trout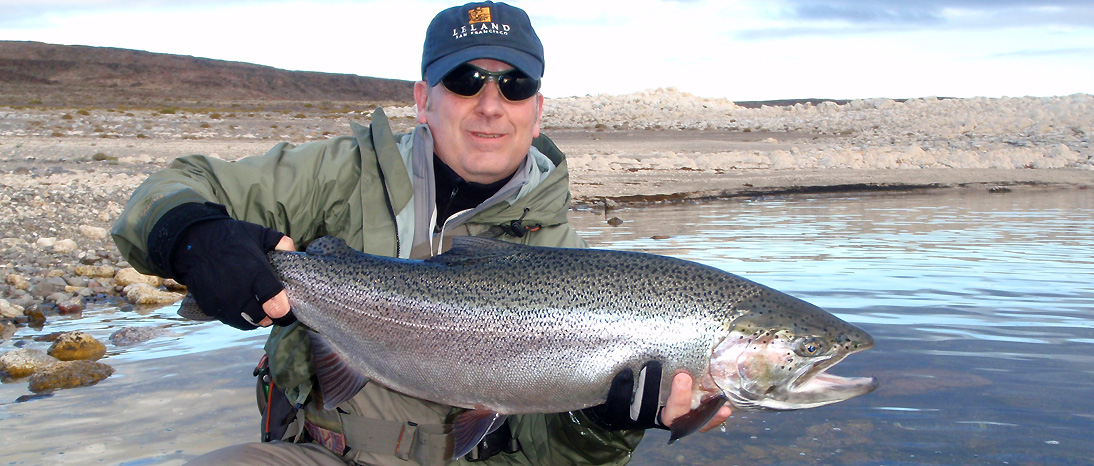 There is a growing number of fly fishermen that consider Lake Strobel the best trophy rainbow trout destination in the world. Here 8 to 10 lb trout are just average and beasts of up to 25 lbs are real possbility on every cast.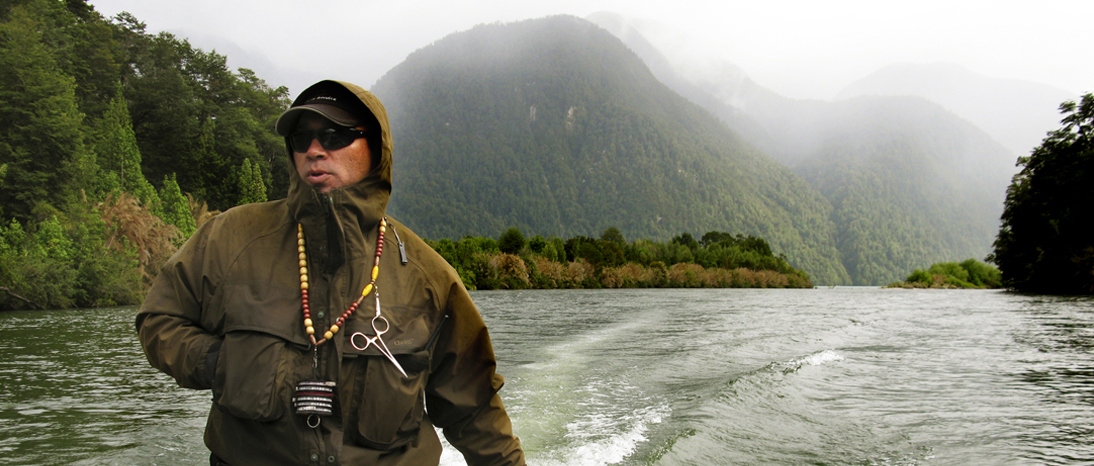 Lake Yelcho has gained world-wide fame for fantastic dry fly fishing for very large trout during massive dragonfly hatches during the summer. The Yelcho River is the perfect complement to the lake providing fine fishing for enormous chinook salmon as well great sight fishing with small dries and nymphs for abundant rainbows and browns.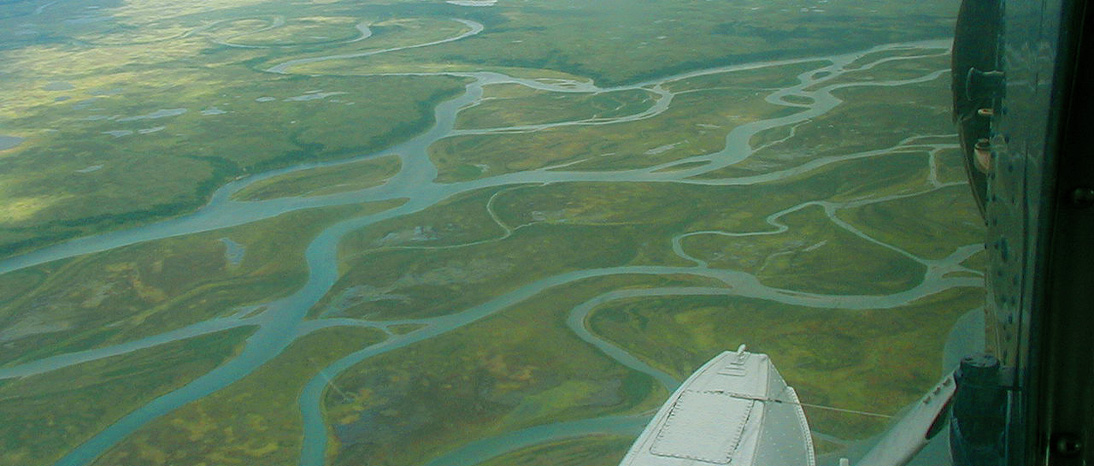 The Kvichak is one of North America's legendary trout rivers. The rainbow trout become huge here gorging on the eggs and flesh of the millions of sockeye that return to the river every year to spawn.