Río Grande, Tierra del Fuego – Chile
Known for its incredible sea run brown trout, this legendary river is the largest on the island of Tierra del Fuego. There is no better place in the world to catch a trophy sea-run brown trout. Fish in the 10 to 15 pound range are common and every year bruisers of over 20 pounds are caught. Beautiful resident brown trout of up to 6 or 7 pounds in numerous lakes and other rivers round out the offering in this sector of the Chilean side of the island. Waters we fish include the Lago Blanco, a lake "infested" with trout in the 20 inch range, or the remote and virtually untouched waters of Lago Fagnano and the Azopardo River, where in addition to resident and sea run brown trout you will have the chance to fish for large brook trout. The solitud and majestic beauty of this wild country is enough incentive in itself for a visit.
The island is sparsely inhabited and the landscapes remain much as they were when Magellan first saw the island in 1520. Outside of the cities of Ushuaia and Río Grande, the island is very sparsely populated with few large cattle and sheep ranches and small towns. Here your only company on the river will be your guide and wild fauna of the island including guanacos, condors, eagles and Magellan geese.
From October to December visiting fishermen can enjoy excellent dry fly fishing for resident brown trout. The first sea run browns begin arriving in the Río Grande in November, but the thick of the run occurs from early February until the middle of April. It is an excellent river for fly fishing but can also be demanding. Long casts are necessary to properly cover many of the pools and a spey rod can be a great help, especially on windy days which occur frecuently. Most fishing is wit streamer or nymphs, however, there are moments that these fish can be enticed top water with a skating fly. From the lodge, you will have access to some of the best pools on the river.
Weather in Tierra del Fuego from December to April can be compared to what you might experience in Alaska during the summer. Depending on the moment of the fishing season, temperatures may vary between 5 and 15 degrees celcius and moments of high winds are frecuent. We recommend that you bring good rain gear with at least one extra set. In Tierra del Fuego there are no dangerous insects or animals.
For sea trout: one or two hand seven to nine weight rods with floating and intermediate sink lines. During the early or late seasons with high water it may be necessary to go to fast sinking lines. A skagit head with a variety of sinking tips can be useful for these situations.
Flies: Intruder type tube flies in black, chartreuse, purple, blue, orange, grey or white. Streamers such as Woolybuggers, Zonkers, Muddlers and Zonkers in hook sizes 4 to 8.
9 or 10 foot 15-30 gram action spinning rods. Single hook barbless lures.
The lodge is located on a high bluff with a beautiful view of the surrunding scenery. It can accommodate up to 8 persons distributed among 2 double cabins and a duplex for 4 persons. Each cabin has its own living room, rooms with 2 large comfortable beds, private on suite bathrooms, electricity 24 hours and a wood burning stove for heat.
During their stay guests enjoy excellent Chilean cuisine including local seafood and excellent beef and lamb accompanied by fine Chilean wines.
Guests may fly into Santiago de Chile and catch a connecting domestic flight to Punta Arenas. From there we can either organize a charter flight on a small plane to an airstrip just 25 minutes away from the lodge or a transfer by road and ferry accross the Strait of Magellan which takes about 5,5 hours.
Another option would be to fly into Buenos Aires and take a connecting flight to Río Grande on the Argentinian side of the island. The transfer by road from there takes about 2 hours.
Location: The TDF Lodge is located close to the border with Argentina two hours by road from the city of Río Grande (on the Argentinian side of the island), four hours from Ushuaia and five and a half hours by road and ferry from Punta Arenas. The lodge is surrounded by lakes, ponds and rivers and just a 30 minutes away some of the Rio Grande's best pools.
Season: 15 de October to 15 April.
Best dates: February – March.
Nº of rods allowed: N/A (The lodge can accommodate up to 8 persons at a time)
Fishing techniques allowed: Fly and spinning
Species available: Sea-run and resident brown trout, rainbow trout and chinook salmon
Note: All fishing is stricly catch and release.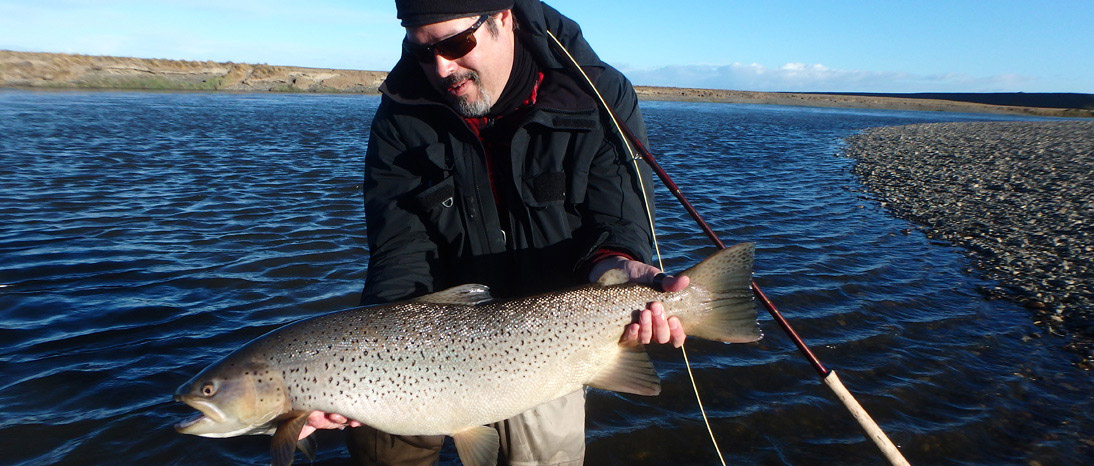 No other river in the world can rival the Rio Grande in Tierra del Fuego in the number of large sea-run brown trout it produces. An average fish will run about 9 or 10 lbs, but 20+ lb fish are not at all uncommon. We work with various excellent lodges the fish here.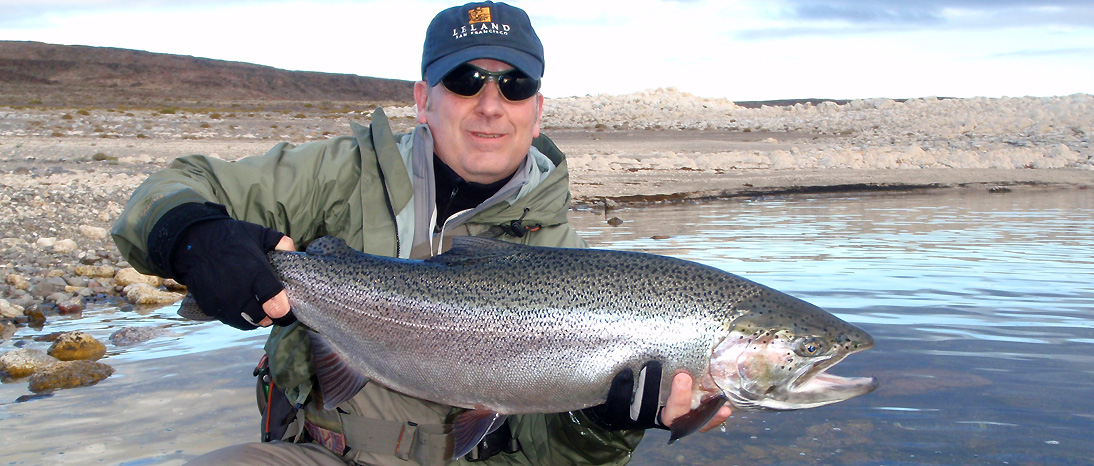 There is a growing number of fly fishermen that consider Lake Strobel the best trophy rainbow trout destination in the world. Here 8 to 10 lb trout are just average and beasts of up to 25 lbs are real possbility on every cast.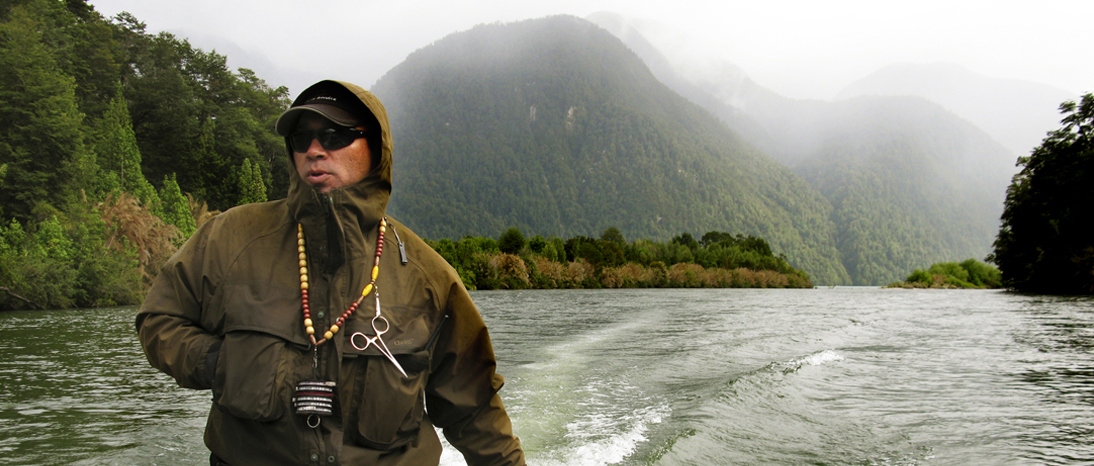 Lake Yelcho has gained world-wide fame for fantastic dry fly fishing for very large trout during massive dragonfly hatches during the summer. The Yelcho River is the perfect complement to the lake providing fine fishing for enormous chinook salmon as well great sight fishing with small dries and nymphs for abundant rainbows and browns.