If you have ever wondered what fishing in Alaska was like 40 or 50 years ago before the droves of tourists and combat fishermen arrived, there is still a place in the remote Alaska Peninsula where you can find out. Situated along the banks of the Ocean River, Wildman Lake Lodge is the place to go to enjoy world class fishing in an untouched wilderness setting just like it was in most of Alaska 50 years ago.
On the Ocean River guests will move around with their guides in fast jet boats to quickly get to the hottest fishing spots. For the flyout trips, depending on the weather, the fishing conditions and guest's wishes the guides will choose among a number of great rivers for wade fishing all within a half hour of the lodge including the Sandy, the Meshik, the Bear River or King Salmon Creek. Week long stays at Wildman include three fly out trips to these rivers among others.
The season at Wildman starts in mid-June with the arrival of chinooks to rivers in the area. The fairly shallow Sandy and the Meshik Rivers are especially suited to fly fishing for kings that average around 25 pounds but can run up to 55 pounds. The fishing for kings in this river is complemented with hard fighting chum salmon that begin arriving in late June and early July. The action for kings can be good through July coinciding with great fishing for sockeye salmon. Fishing for chum and pink salmon picks up throughout the month staying good until the middle of August when the coho salmon begin to arrive in force.
The Ocean River, a crystal clear artesian stream is one of the most prolific silver salmon rivers in Alaska. It is also one of the surest bets you will find for great fishing for dime bright silvers freshly arrived from the sea. It is the only artesian sport fishing stream in all of Alaska and will run clear even when heavy rains turn other rivers to mud making fishing impossible. If your idea of fun is catching explosive cohos on surface flies, search no farther. A polywog skittered along surface near a pod of fish is just the ticket to entice one of these aggressive finned creatures to smack the daylights out of it. As far as number go, let´s just say that if you come during peak season you can have days that you catch so many fish you feel like your arms are going to fall off. And if you are a spin fishermen look out!
At some point you will probably want to give your arms a break and go for some smaller quarry. The dry fly fishing for rainbow trout and dolly varden can be spectacular in the Ocean River and it's tributaries throughout the season. Later as September rolls along the dollies and rainbows get bigger gorging on the eggs left by the salmon that have spawned. By the end of the month the autumn steelhead will begin coming into various local rivers to feed on the eggs as well. It's not a bad time to come if you would like to mix it up and alternate catching hard fighting steelhead with the feisty silvers, as long as you don't mind a little Alaskan Fall weather.
Fly Equipment: For King salmon, we recommend 8 or 9 weight one or two hand rod, with a weight forward line for the one handers or a scandi for two hand rods. You will want to bring a selection of sink tips from intermediate to a type 6. For coho, sockeye and chum salmon we recommend one or two hand seven and eight weight fly rods with floating lines and a selection of sink tips. For dolly varden and rainbow trout bring a 5 or 6 weight rod with floating lines.
Flies for king salmon: Fat Freddies, large intruders, large bunny leaches and other leach variants in pink, orange, chartreuse, purple and blue Flies for cohos: well weighted streamers such as egg sucking leaches, wooly buggers, popsicles, flash flies, intruders in hot pink, orange, chartreuse, purple, black and blue or large floating flies such as bombers and polly wogs in the same colors.
Spinning gear: 9 foot spinning rods with 15 to 25 pound test line. Nº 2 or 3 Silver Fox spinners, Mepps Flying C's or Aglias, Dick Night or Pixie spoons in bright colors.
Guests are accomodated in cozy private cabins with double twin or king size beds with on suite bathrooms, heating and electricty. Amenities include laundry service, telephone, fax, satellite television, sauna and freezer. Meals are served in the main lodge with the kitchen, dining and lounge areas. The food can be classified as "Gourmet Alaskan" – hearty home style cooking with just the right touch of modern culinary influence.
Wildman Lake Lodge is located along the banks of the Ocean River in the remote Alaska Peninsula about 1000 miles to the west of Anchorage. to get there guests fly into Anchorage. From there we fly them directly to the lodge on a private plane on a scenic 2 hour flight.
Location: The Wildman Lake Lodge is located on the banks of the Ocean River, in a remote area of the Alaska Peninsula, 1600 km to the south east of Anchorage.
Season: June – October.
Best dates: For king salmon and sockeye: mid-June through mid-July. For chum salmon: mid-July to mid- August. For coho salmon: mid-August to early October.
Nº of rods allowed: N/A
Techniques permitted:  Fly fishing and spinning
Species available: Chinook salmon (king salmon),  sockeye salmon, coho salmon, chum salmon, dolly varden,arcic char & rainbow trout.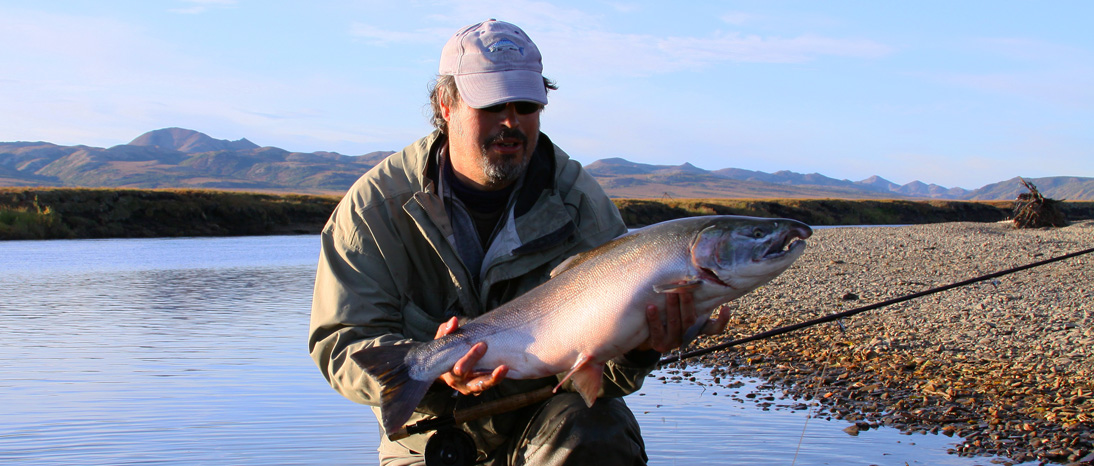 The Unalakleet River is a remote destination on the western coast of Alaska, just south of the Bering strait. It is a great river for those looking for great fishing away from the crowds. The Unalakleet receives good runs of kings, chum and pinkk salmon but the silver salmon fishing is out of thei world!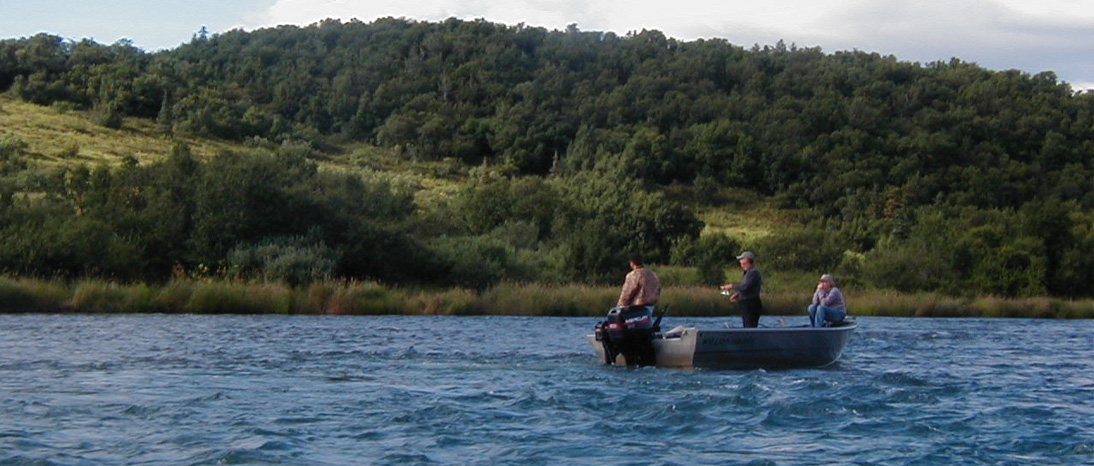 The Naknek is an extremely versatile river which offers excelent fishing for sockeye and silver salmon as well as huge rainbow trout. In fact, it is one of Alaska's best rivers for trophy size rainbow trout. Other species available include pink and chum salmon and a few kings as well as dolly varden and grayling.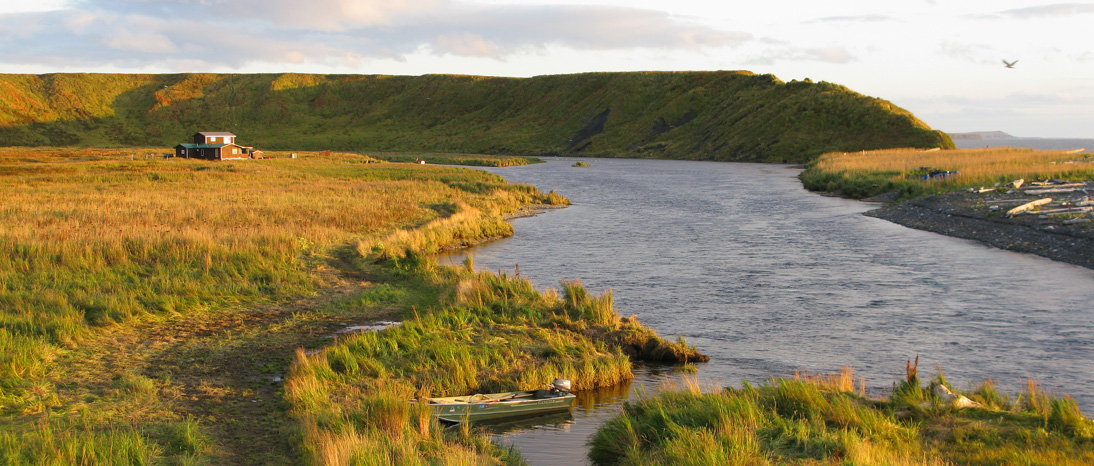 The best salmon river on the island of Kodiak. This is an ideal destination to sight fish for kings or cohos on the fly. It also produces some of the largest cohos in Alaska. Later in the season it also gets a decent run of steelhead. One of the extra benefits is that you will most certainly have the chance to do some bear watching.