Over the years, Laxá í Dölum's reputation as one of the great international Atlantic salmon fishing destinations has grown steadily. As its fame grew, it became popular with a priviledged group of famous public figures. Golf champion and Jack Nicklaus or astronaut Neil Armstrong are just two examples of the numerous famous personalities that have fished its waters. Year after year, this river has placed among the best in Iceland both in terms of total annual catch and in terms of captures per rod day.
The total annual average catch is around 1,200 salmon during an 80 day season. The bulk of these fish are salmon ranging from 5 to 12 pounds, although every season fish in the 18 to 25 pound range are caught here. The river is located in the northwest, a short distance from the village Búdardalur, about 150 km (95 miles) from Reykjavik. The river flows through the valley Laxárdalur and empties into the Hvammsfjördur bay. Laxá í Dölum is divided into three sections fished by two rods each. In total they amount to 25 kiometers of fishable waters including 33 named pools with fabulous fly water. 
Pretty much all of the pools offer easy access by four wheel drive vehicles, much to the delight of fishermen who prefer avoiding long hikes on difficult terrain to get to the fishing. Flowing through a wide valley, the lower river offers a number of ideal pools for hitching, with the exception of a few excellent spots for worm fishing including the famous "Papi". Pools such as Kristnipollur or Svarfhólsstadagrjot are favorites of visiting fly fishermen. In contrast, in its upper stretches the river narrows considerably requiring fishermen to employ a variety of technics. In the uppermost beat, Svartifoss y Sólheimfoss stand out for worm fishing. These are deep pools fed by small cascades where the salmon concentrate. Generally the best dates to fish Laxá í Dölum fall between mid July until around the third week of August. However, the moments of best fishing are determined more water conditions than by tides or specific dates. That said, even during ver low water conditions, Laxá í Dölum continues producing captures.
Six to eight weight one hand fly rods, with floating lines.
Effective flies throughout the season include Red and Black Frances and Collie Dog. As the season advances we can add to the list Hairy Marys, Blue Charms, Munroe Killers, Undertakers, Green y Red Butts in sizes 10 to 14.
During periods of low water in the summer, hitch tubes and micro tubes fished with long light leaders can be very effective. During such times pstream nymphingwith bead head nymphs sauch as princes or hare's ears can be very effective as well.
Guests are accommodated in a comfortable lodge with 6 double bedrooms with on suite bathrooms. The lodge also has a central lounge – dining room, sauna and wader drying room. Guests will enjoy excellent international gourmet meals prepared by an experienced chef. 
Guests generally fly into Keflavik International Airport and spend the night in Reykjavik. Packages include round trip ground transfers from Reykjavik or Keflavik. Laxá in Dölum is about 1 and a half hours away from Reykjavik by road.
Location: Laxá í Dölum is located on the north west coast of Iceland near the village of Búdardalur.  The river flows though the Valley of Laxárdalur, emptying into the Bay of Hvammsfjördur.
Season: 1 de July to 25 September
Best dates: Mid-July through the third week of August
Nº of rods allowed: 4 to 6
Fishing techniques allowed: Fly 
Species: Atlantic salmon
Note: Fishermen should be aware the Icelandic authorities require that any fishing equipment brought into the country be sterilized appropriately with a proper veterinary's certification. Sterilization of equipment may also be done at the airport.
In order to travel to Iceland, you should have a valid passport with an expiration date at least 6 months after the planned return date. A visa is not required for EU or US citizens.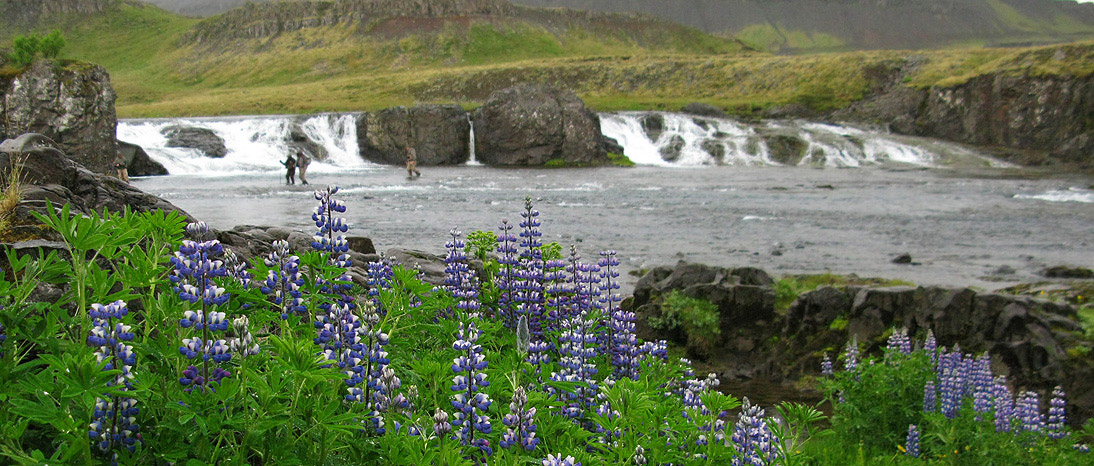 Considered by Icelanders to be the most beautiful river in the country, the Nordura usually ends up among the top five salmon rivers in the country in total annual catch. Its waters are varied and interesting and best fished with a light 2 handed rod or a switch rod early in the season. Fishermen stay at a good full service lodge overlooking the river,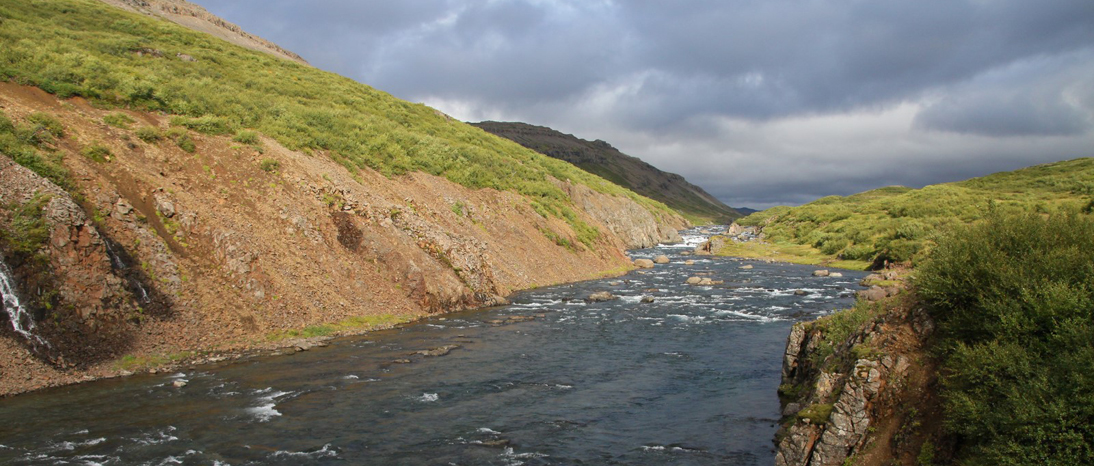 A fantastic grilse river with a wide variety of beautiful fly water ideal for fishing with one hand or switch rods. Every year it ends up as one of the top ten rivers in Iceland in salmon caught.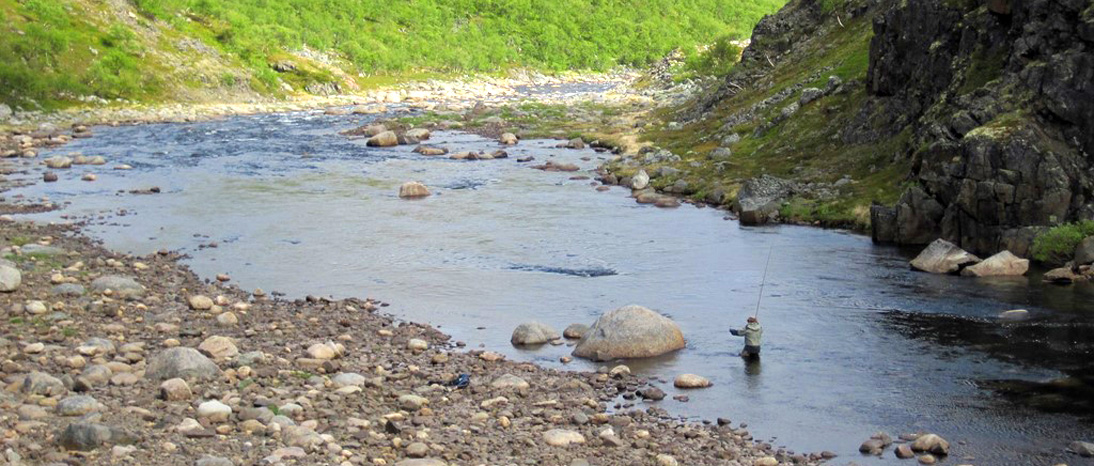 Located on the northern shore of Russia's kola Peninsula, the Sidorovka River is a fantastic remote destination for MSW salmon as well as sea-run brown trout. A small tent camp caters to groups of 6 fly fishermen at a time that have the entire river to themselves.