Laxá in Laxardalur, Iceland
Laxa in Myvatn or Thingeyjarsyslu is the same river as that of the famous almon beat, Laxá in Adadal, (in English often called simply the Big Laxá). Upstream from the main salmon beats the Big Laxá  is a truly a world class brown trout destination for fly fishermen. Two of the very best beats are Myvatnssveit and Laxardalur, both located above the hydro electric dam at Bru. Both beats are fished with multiple rods and have separate full service lodges, the upper one called Hof, the lower one called Rauðholar. 
Laxardalur is the lower beat just above the dam. The river in the valley is totally different than upstream. It no longer winds along divided in many channels. At the top of the beat  its waters have gathered strength and flow down the valley like a tide. It is wide and fast flowing and anglers need to take care while wading. The brown trout tend to be slightly less numerous  than in Myvatnssveit but the average weight is higher. Towards the middle of the beat the waters slow and the wading is easier.
The first couple of weeks after the season opening in June are usually the best dates for larger fish. The river tends to carry more water and fishing streamers usually produce the best results. As we reach the end of June surface activity increases, July being prime time for dry fly fishing. During sunny days in mid summer we will find large pods of trout in the 16 to 20+ inch range sipping down midges just feet from the river bank. These are large wily and very selective trout. The dilemma of fly fishermen will often be whether to go with lighter tippets and small midge imitations to fool them more easily but risk breaking, or to go with heavier tippet and larger flies. Generally it is not recommendable to go any lighter than a 4x tippet as  the first thing these fish will do when hooked is head for the nearest rock and wrap your leader around it. A delicate approach with long leaders can make all the difference towards success. Though at times, a big fly such as a Madam X on size 8 hook with a 2 or 3x tippet will also bring success, especially in facter flowing water.
We recommend single hand 4 to 6 weight rods with floating lines. Longer leaders from 12 to 15 foot can be useful in your presentation to large trout in slower water. Generally it is not advisable to use tippets lighter than 4x.
Flies: Bibio Hopper, Black Hopper, Black Gnat, Hawthorn, on nº 12 to 16 hooks, Elk, deer hair caddis in hook sizes from 12 to 18, olive or black Klinkhamers in sizes 8 to 16, large stone fly imitations. Nymphs: pheasant tail, Prince, Flash Prince, gold bead hair's ear in hook sizes 10 to 14.
Anglers at a full service lodge next to the river. It is a no frills establishment with good cooking and basic rooms that are fine for a good evening's rest. The sitting room is nice and there is an outdoor jacuzzi.
Laxá in Laxardalur is located in Northern Iceland. Guests generally fly into Akureyri from the local Reykjavik Airport on a domestic flight. From there we can arrange transfers by road or a rental vehicle to drive to the lodge about 45 minutes away.   
Location: Laxá in Laxardalur is located in northern Iceland just 45 minutes away from the town of Akureyri by road
Season: 5 de June to 15 de September
Best dates: End of June to early August for dry fly fishing.
Nº of rods allowed: 6 to 10 depending on the dates
Methods allowed: Fly
Species: Brown trout
Nota: Fishermen should be aware the Icelandic authorities require that any fishing equipment brought into the country be sterilized appropriately with a proper veterinary's certification. Sterilization of equipment may also be done at the airport.
In order to travel to Iceland, you should have a valid passport with an expiration date at least 6 months after the planned return date. A visa is not required for EU or US citizens.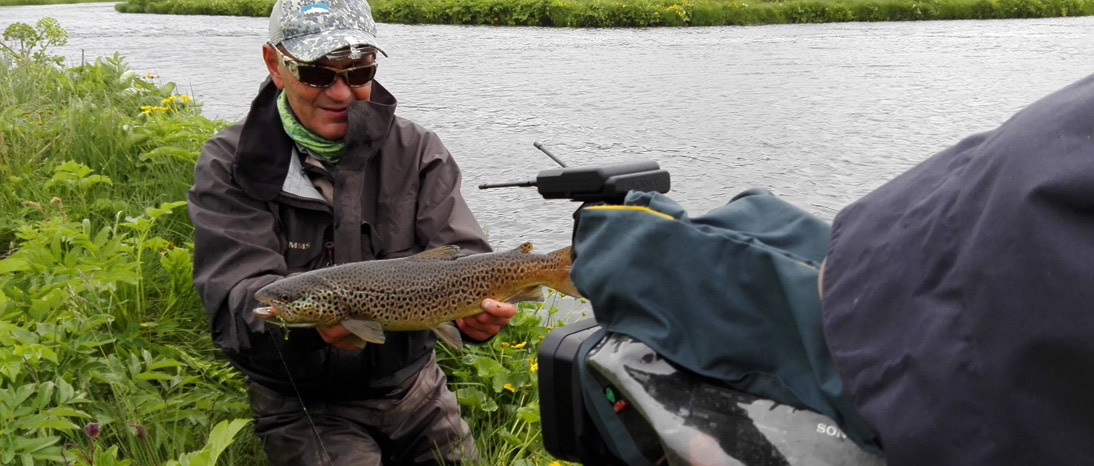 One of the finest fly fishing destinations fro wild brown trout in Iceland. The sizes of its fish usually run from 14 to 25 inches with 20+lb fish always present. Dry fly fishing can be excellent at times during the summer. It is a must fish destination for the travelling trout fly fisherman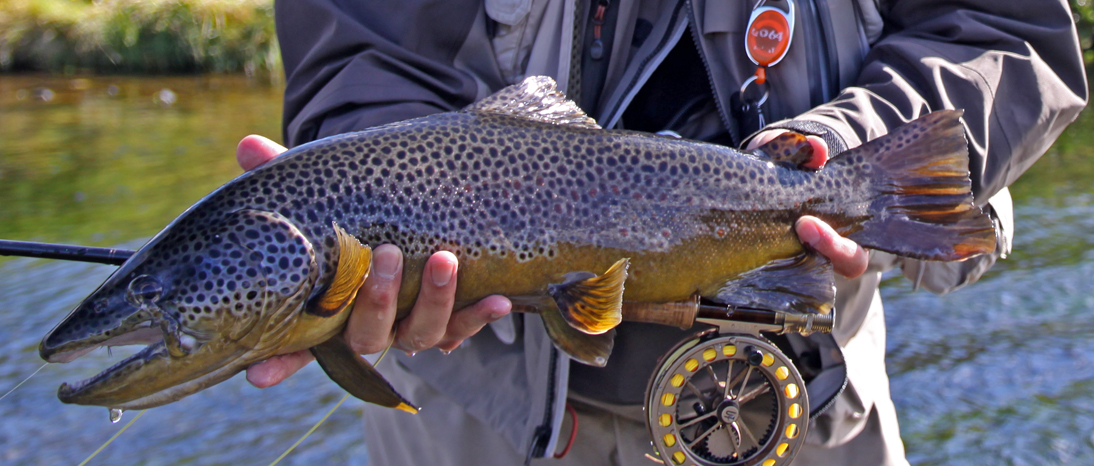 This small slow flowing meandering river is a genuine spring creek originating in several upwellings of subterranean waters. The brown trout here which grow to enormous sizes are said to come from a strain which has been isolated since the Ice Age. It is a very technical dr fly stream where large trout can be taken on very small dry flies and nymphs throughout much of the season and monsters of 20+ pounds are always lurking in its deeper pools.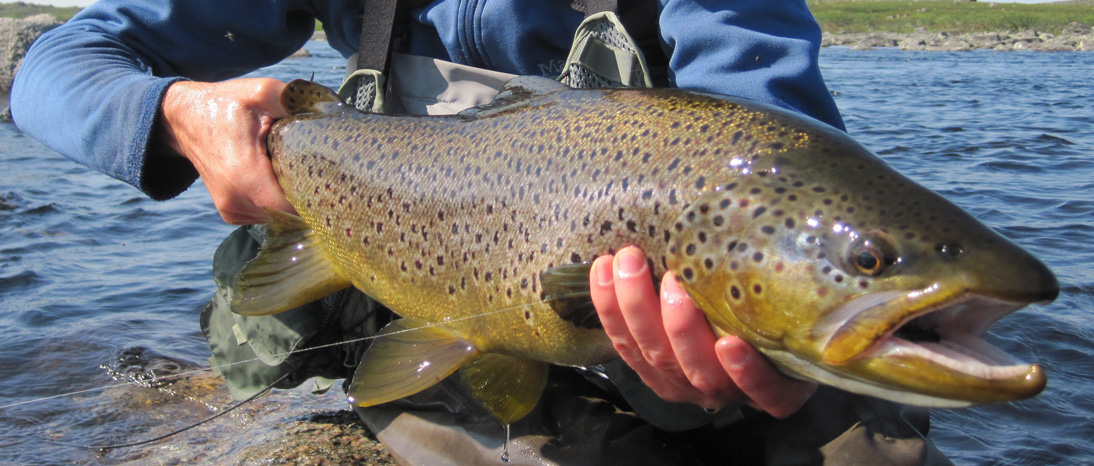 This is fly fishing for brown trout as you dreamt it: huge wild browns often on dry flies in a pristine river virtually untouched by man (other then the 12 fishermen who fish it during the summer from this camp). Lake Enozero serves as an enormous nursery producing huge migratory browns that distribute themselves throughout the river during the summer.