Tungufljot River, Iceland
The Tungufljot River is the probably the best river in Iceland for sea trout with beautiful pools with great fly water and good wading. Local fishermen consider it Iceland's answer to the Rio Grande in Tierra del Fuego because of the enormous fish it produces. The average size of its sea trout is around 7 lbs, but fish and the 10 to 15 lb range are not uncommon and there is always a chance for a 20 lb monster.
Located 245 kilometers to the east of Reykjavik.  The Tungufljot is much shorter than the Rio Grande. What is more, only the first 5 or 6 kilometers of river are fished for sea trout. It is at this distance upriver where the sea trout and salmon run into the natural barrier of the Bjarnfoss falls. As a consequence of this natural barrier, the fish tend to concentrate in the pools below. This in combination with the limited number of rods that are allowed on the river are a great advantage. Although it is a small river, it does produce sea trout similar in size to those of the Rio Grande. Additionally Atlantic salmon comprise about 10 percent of the total catch. 
Over the years the course of theTungufljot has changed significantly. Between Bjarnfoss and where it flows into the turbid glacial waters of the Elvatn River there are 14 excellent pools. A few of these such as Klapparhylur, Breidafor or Fitjabakki are particularly good for salmon. But just in front of the lodge the last pool on the river, Sydri Homur, is probably the best of all for sea trout.  Arriving fish will stop here staying just beyond the border between the clear waters of the Tungufljot and the milky glacial water of the Elvatn to rest before continuing upriver. Often a fly cast just  beyond the line of glacial water will draw a vicious strike from fish darting out from their cover in the glacial water.
Fishermen stay at a comfortable completely furnished and equipped self-service 4 bedroom lodge just a two minute walk from the river.  To get to the upper pools from the lodge it is advisable to have a 4×4 vehicle. 
Six to eight weight one hand, switch or light spey rods with floating lines. Short (1,5 to 2 m.) intermediate sink polyleaders can also be effective.
Flies for sea trout: .5″ t0 2″ tube flies in black, blue and silver. Black, white, white and pink or red streamers on size 4 to 6 long shank hooks. A variety of weighted nymphs including princes, hare's ears, pheasant tails on size 8 to 12 hooks.
For salmon: snaeldas, red y black francises, sun ray shadows, collie dogs, hairy marys, blue charms, undertakers, green y red butts on nº 8 to 12 hooks.
Guests are accommodated in a simple but comfortable four bedroom self-catering lodge situated right next to one of the best pools on the river. The lodge is composed of two separate wooden cabins, each with two bedrooms and a bathroom. The larger cabin also has a fully equipped kitchen, dining room and lounge area. The cabins have hot water and 220v. electricity 24 hours a day. There is also a wader and equipment storage room.
Para llegar los viajeros deben volar al aeropuerto de Keflavik. El Tungufljot está localizado en la costa sur de Islandia a 245 kilómetros al este de Reikiavik. Se toma la carretera 1 en dirección sur este.
Location: Next to Grafarkirkja 245 km to the east of Reykjavík.
Season: 1 April to 28 May and 9 August to 18 October
Best dates: 15 April – 15 May and 10 September to the end of the season in OCtober
Nº of rods allowed: 4
Fishing techniques allowed: Fly only. All resident and sea-run brown trout should be returned to the river alive
Species available: Sea-run and resident brown trout, Atlantic salmon and char
Note: Fishermen should be aware the Icelandic authorities require that any fishing equipment brought into the country be sterilized appropriately with a proper veterinary's certification as proof. Sterilization of equipment may also be done at the airport.
In order to travel to Iceland, you should have a valid passport valid with an expiration date at least 6 months after the planned return date. A visa is not required for EU, UK or US citizens.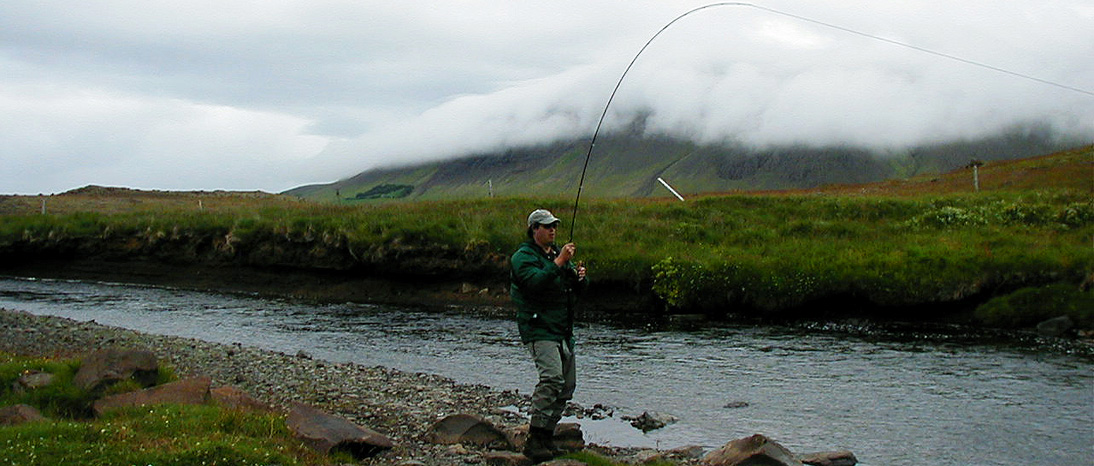 They say that the fisherman who learns to fish this river properly, can fish any river in Iceland successfully. Its waters can be extremely technical and demanding, offering great opportunities to test ones skill fishing with floating lines and flies as small as a size 18. Every year it ranks among the top 10 rivers in Iceland in terms of annual catch with an average of around 1,200 salmon caught per year.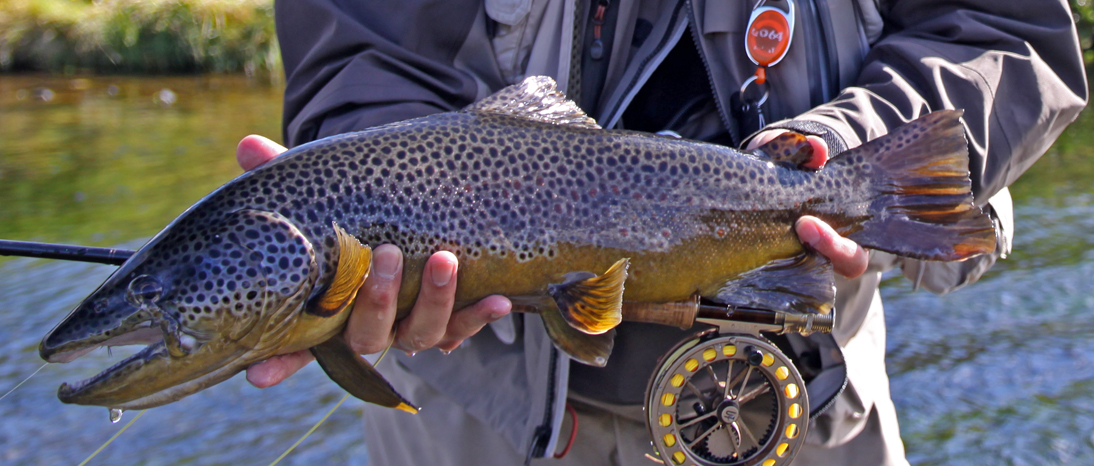 This small slow flowing meandering river is a genuine spring creek originating in several upwellings of subterranean waters. The brown trout here which grow to enormous sizes are said to come from a strain which has been isolated since the Ice Age. It is a very technical dr fly stream where large trout can be taken on very small dry flies and nymphs throughout much of the season and monsters of 20+ pounds are always lurking in its deeper pools.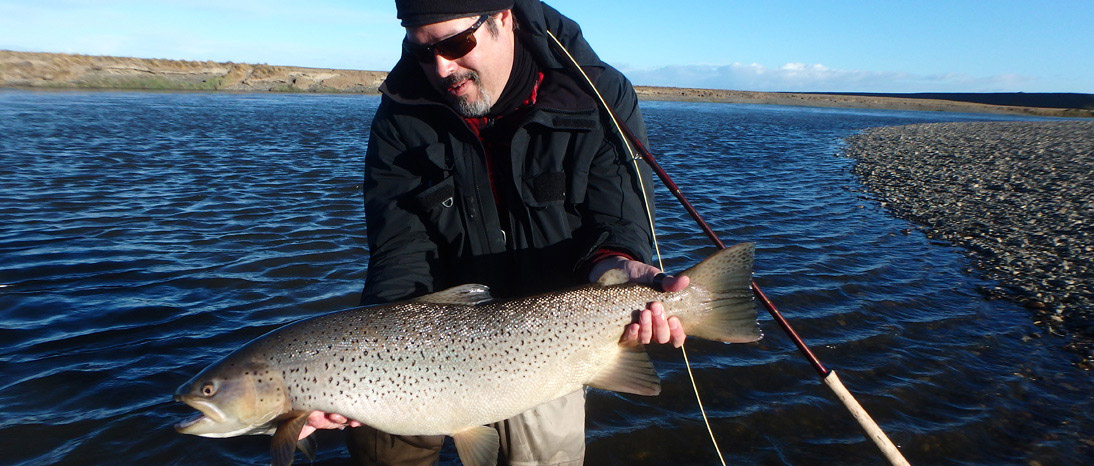 No other river in the world can rival the Rio Grande in Tierra del Fuego in the number of large sea-run brown trout it produces. An average fish will run about 9 or 10 lbs, but 20+ lb fish are not at all uncommon. We work with various excellent lodges the fish here.