Ayakulik River, Kodiak Island – Alaska
There is no greater thrill for the adventurous angler than to fish for salmon or steelhead in the company of the magnificent Alaska brown bear. And there is no better place in the world to experience such an adventure than on the island of Kodiak. The so called "emerald island" is a place of incredible beauty, fantastic fishing and the home of the densest population of giant brown bears in all Alaska. Isolated from the rest of Alaska for thousands of years the brown bear has thrived in the unique natural environment of this protected island. It's mild climate, varied topography and abundance of food in the form of various species of Pacific salmon, abundant Sitka black tail deer, grasses and berries has provided the brown bear.
Kodiak offers sports fishermen a variety of options for decent fishing along its road system, however, the best fishing is to be found away from the crowds in remote areas of the island accessible only by air or sea. Remote rivers such as the Karluk, the Sturgeon, the Ayakulik, the Uganik, Dog Salmon Creek or Olga Creek, can provide some of the best action anywhere on the island, but it is important to know your waters and be at the right place at the right time for the species you are targeting.
We target some of the best waters on the island for Chinook salmon or trophy coho salmon on a fly, waters that are perfect for wading and fly fishing. Their remote location assures that that the only fishermen on the river are guests at the lodge. To get here, we generally use small planes fromm Kodiak to Larsen Bay and then a helicopter for the last part off the journey. It is definitely a trip worth taking even if it were just for the spectacular views of the island you will experience.
June is the peak time for chinook (or king salmon), while September is peak season for cohos (or silver salmon). There are few waters in Alaska that are so appropriate for catching kings on a fly and after some years of reduced runs, kings were back in good numbers in 2010. Kodiak cohos are the largest in Alaska with fish averaging in the upper teens and some even topping the 20 pound mark. This salmon is the most spectacular fighter of all. Blazing runs in unpredictable directions and explosive acrobatics make it a thrill to catch both on a fly rod or spinning gear. During this time of year, you will also enjoy the fishing for abundant dolly varden and the occasional early steelhead.
The area we fish in the extreme south western part of the island is prime bear habitat and if you travel there with us you will definitely see bears. Coming across a wild brown bear while fishing these waters, can be unnerving for first timers. But for most fishermen it is without a doubt one of the most exciting and memorable experiences they will ever have while enjoying the sport. As long as you use common sense and follow a few simple rules you should never have a problem fishing here. Our guides are native Alaskans that have fished these waters for years and have a great deal of experience being around bears. They will brief all guests on what to do and what not to do while they are in bear country and keep a watchful eye on them at all times.
Coho Salmon, Sockeye and Dolly Varden: 6 to 8 weight fly rods with short sink tip lines. Flies: colorful streamers such as egg sucking leaches, wooly buggers, flash flies. 9 foot 15 – 40 gr action spinning rods. For lures: Nº 2 Silver Fox in bright colors.
Chinook salmon(King): Single and double handed 9 to 11 weight fly rods. Flies include: fat freddies, intruders and simple streamers in pink, red, purple, red and black on very sharp nº 2 hooks. Cañas de lance de un mínimo de 3 metros con acción de 35 a 75 g. .
Lodging is in 2 very basic lodges, each with its own kitchen and dining and lounge area. Double and triple rooms, each lodge has 1 bathroom with a hot water shower. Toilets in are outdoor johns. One lodge can take up to 6 fishermen in three double bedrooms and the other houses up to 8 fishermen in two double bedrooms, one triple y 1 single. 110 v. electricity is provided by genreator.
The Ayakulik River is located on the South western tip of Kodiak Island about 100 miles as a crow flies from the town of Kodiak. Access is only by sea or by air. Generally guests will fly into Kodiak and from there take a small plane to Larsen Bay. From there the last leg of the journey is by helicopter.
Location: The Ayakulik River is located on the South western tip of Kodiak Island about 100 miles as a crow flies from the town of Kodiak.
Season: June – September
Best dates: June and July for king salmon and sockeye. Late August to mid- September for coho (silver) salmon.
Nº of rods allowed: Up to 14 persons can be accommodated between the two lodges.
Fishing methods allowed: Spinning and fly fishing
Species targeted: Chinook (king) salmon, sockeye salmon, coho (silver) salmon, pik salmon, rianbow trout, dolly varden and steelhead.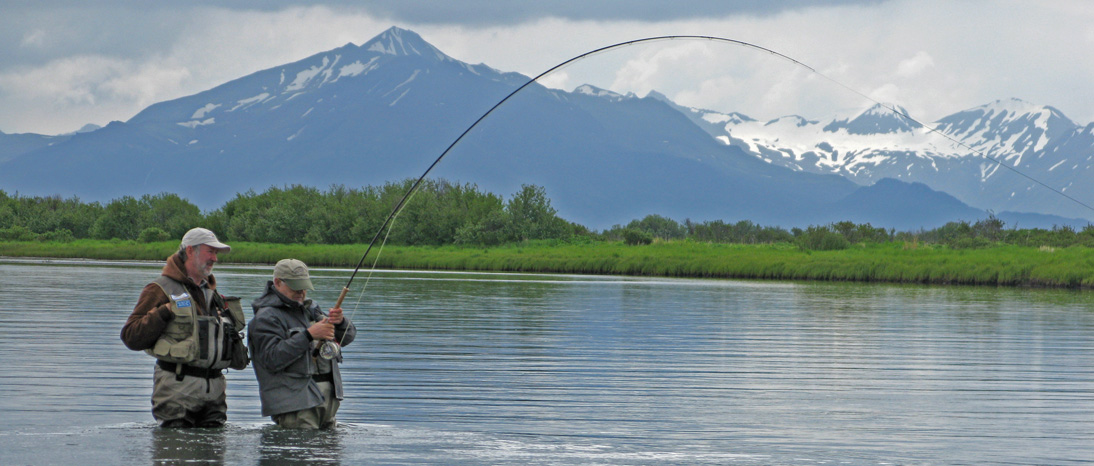 It is like going back in time to when fishermen had just discovered Alaska as a sportfishing paradise: incredible numbers of fish, wild untouched nature, beautiful scenery awithout a trace of civilization. This mixed program offers some of the hottest silver salmon fishing you will find on the home waters of Ocean River and fly outs to some of the other top rivers in the Peninsula for kings, chum and more.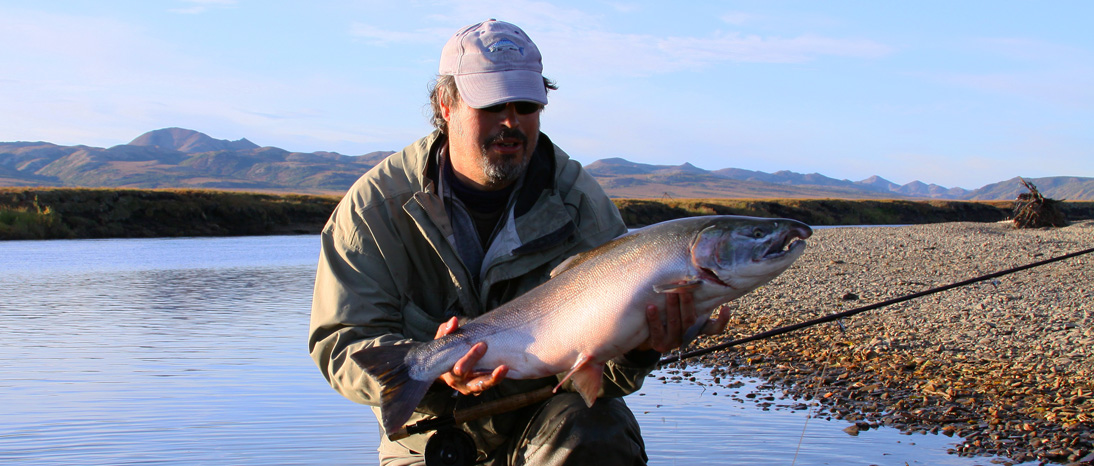 The Unalakleet River is a remote destination on the western coast of Alaska, just south of the Bering strait. It is a great river for those looking for great fishing away from the crowds. The Unalakleet receives good runs of kings, chum and pinkk salmon but the silver salmon fishing is out of thei world!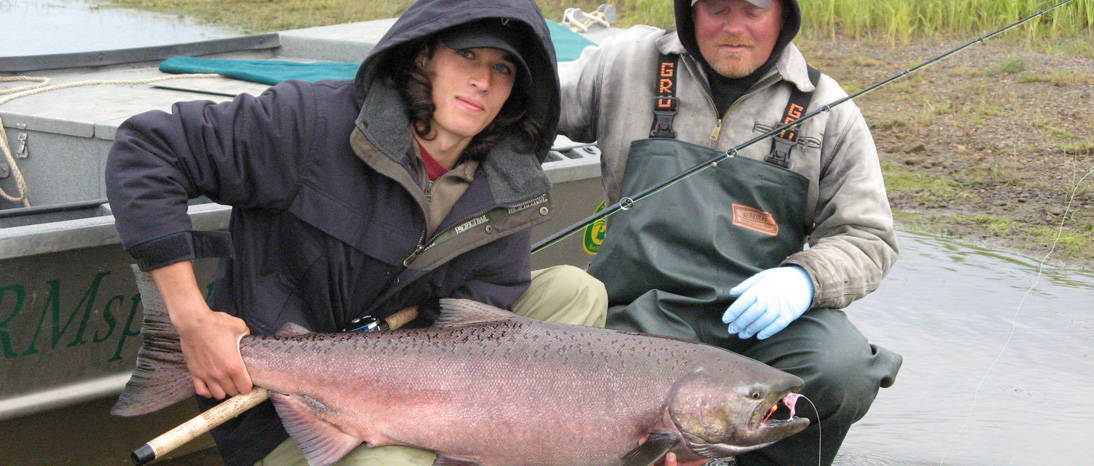 With an annual run averaging approximately 100.000 chinook or king salmon, the Nushagak is without a doubt one of the best destinations in the world to fish for this species. Most of the Nushagak's kings run between 20 and 35 pounds with the ocassional 40 pound fish.