Montana, Four Rivers Program
Our Four Rivers Program is designed to give you a taste of some of the best dry fly fishing that Montana has to offer while avoiding the crowds that can be found on some of its waters. Fishing is out of one comfortable location which many call the fly fishing capital of the United States, the town of Missoula. The fact is that many of its inhabitants live here precisely because of the fishing. There is even a great stretch of the Clark Fork for fly fishing that runs through town and other fantastic Montana water within comfortable range for a day's fishing. We couldn't think of a better place to use as a home base for our program.
Our program includes float trips on four legendary Montana rivers: the Bitterroot, the Clark Fork, the Blackfoot and the Missouri. Expert local guides take two fishermen per boat on daily float trips down each of the rivers using typical drift boats. We fish dry flies on these rivers 80% of the time and the trout we catch are quite respectable: rainbow, brown, cutthroat and bull trout averaging 14 to 18 inches with lots of opportunities for trout in 20+ inch range.
On the Bitterroot, the star of the show is the west slope cutthroat. Catch and release requirements for cutthroat have been a boon to these fish and they can be found in good numbers especially in the upper part of the river. These waters also hold a good mix a brown trout and rainbow trout.
The Clark Fork might be the most overlooked of the four rivers, which is just fine by local anglers who know that during a major hatch, sections of the Clark Fork will fish as well as any river in the state.
The Blackfoot has become famous because of its protagonism in the film "A River Runs Through It". It is one of the most beautiful trout rivers you will ever see and an excellent fishery for four species of trout. Special regulations on the Blackfoot have led to increased populations of both native cutthroat and bull trout as well as larger rainbows and and browns. Trout in the 18 to 20 inch range are numerous and many fish in the 20+ inch range are caught.
The Missouri is the largest and most popular of the four rivers in our program. It is big river that is extremely prolific and tends to yield great numbers of fish in the 16 to 18 inch range. It tends to fish well year round with many great hatches occurring.
Throughout the season all four of these rivers will offer fantastic dry fly fishing during numerous hatches. The earliest of these and perhaps the most awaited moment for local fishermen is probably the Skwala hatch beginning in late February and lasting into May depending on the river. This is a time for big fish on big flies. The early part of the hatch is best fished with nymphs and streamers, but as it advances, stimulators will bring the big fish to the surface for spectacular dry fly fishing. During this time there will be good hatches of baetis as well.
Depending on the year run off usually begins in late April and lasts through to mid June. As we move into summer the dry fly fishing will heat up again with caddis and pmd hatches mixed with salmon flies at first and then golden stone flies. Later in the summer, grass hopper imitations become an essential element of our fly boxes. The fall season is another moment that local fishermen await with impatience. Mahogany dun, baetis and midge hatches can produce some spectacular fishing. This is also a time when it is easy to find large stretches of river without a soul in sight.
Four or five weight fly rods with floating lines.
A wide range of flies may be recommended to cover the numerous hatches these rivers: size 6-8 olive stimulators and stone fly nymphs to match the skwala hatch, size 14-16 parachute adams and comparaduns. Size 16 – 20 olive cripples, parachute adams and sparkle duns to match the baetis hatch in March, April and May. As we move into late Spring and early summer: size 4-8 golden stone fly and Montana nymphs, size 14-16 elk haired caddis. Later in the summer: hopper patterns, size 18-22 tricos, size 14-20 pmds. Size 14-16 mahogany duns. Size 16-22 Griffith's gnats for midge hatches throughout the season.
Guests are lodged at a comfortable hotel in Missoula overlooking the clark Fork River. The town boasts a lively nightlife scene with many great restaurants, cafes and pubs. Shopping is also available in several shopping centers in town as well as many small arts crafts stores.
Missoula is located in Western Montana very near the confluence of the Clark Fork and Bitterroot Rivers. To get to Missoula, we normally fly our guests into Helena and make the last leg of their journey by road to Missoula.
Location: Missoula is located in Western Montana very near the confluence of the Clark Fork and Bitterroot Rivers. To get to Missoula, we normally fly our guests into Helena and make the last leg of their journey by road to Missoula.
Season: Third Sunday of May until the 30th of November with some exceptions
Best dates: Great fishing can be had throughout the season though travellers may want to avoid May and June because of potential high water conditions due to run off. Many locals prefer early April for the Skwala hatch and or late September and early October to fish blue winged olives and midges
Nº of rods allowed: N/A
Permitted methods: This program is designed solely for fly fishermen
Species available: Rainbow trout, brown trout, cut throat trout and bull trout
Note: In order to travel to the United States EU citizens need a passport valid for 6 months beyond the date of entry and an approved ESTA Visa exemption.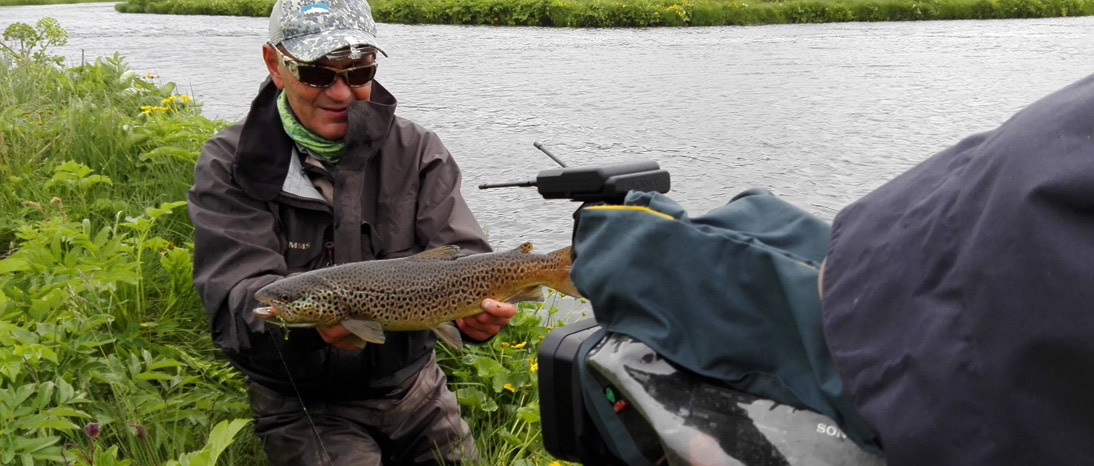 Laxá í Myvatnssveit is undoubtedly one of the finest destinations for wild brown trout in Iceland and probably all of the world. Sizes usually vary from 35 cm to over 75 cm. Fish in the 20+ ib category are hooked here every year. Dry fly fishing can be excellent at times during the summmer. A must fish destination for the serious trout fly fisherman!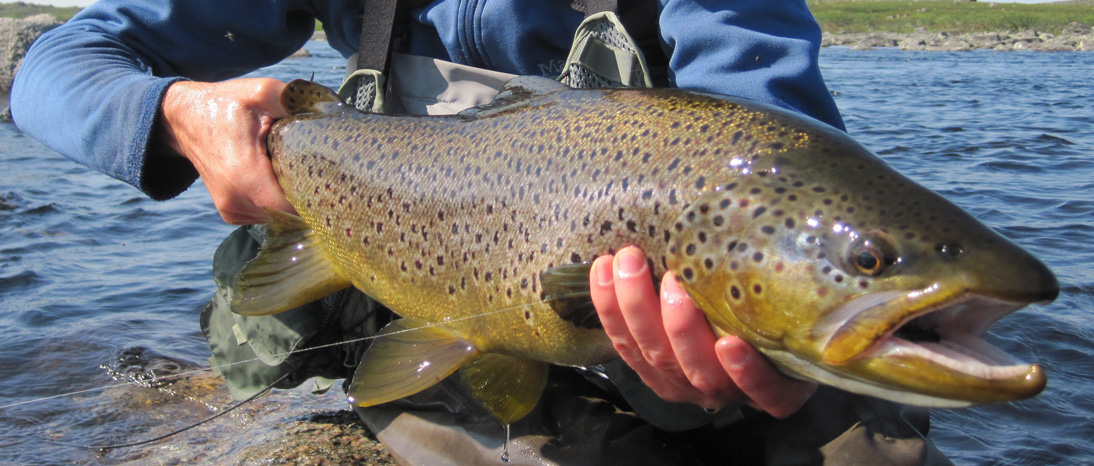 This is fly fishing for brown trout as you dreamt it: huge wild browns often on dry flies in a pristine river virtually untouched by man (other then the 12 fishermen who fish it during the summer from this camp). Lake Enozero serves as an enormous nursery producing huge migratory browns that distribute themselves throughout the river during the summer.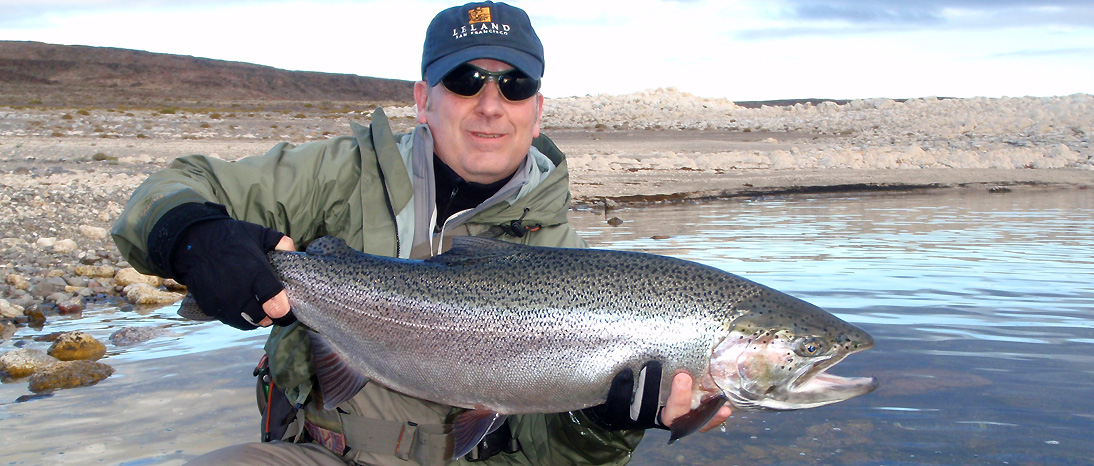 There is a growing number of fly fishermen that consider Lake Strobel the best trophy rainbow trout destination in the world. Here 8 to 10 lb trout are just average and beasts of up to 25 lbs are real possbility on every cast.