Skeena River, British Columbia, Canada
They call steelhead the fish of a thousand casts probably because in most steelhead rivers their numbers are so small that one needs a thousand casts on average to hook one. However, fishing for steelhead in some of BC's most famous rivers is a totally different game. If you go during the right time of year with a good guide and boat your possibilities of success with steelhead will multiply. This is not to mention the fantastic fishing chinook, coho, chum, sockeye and pink salmon that run up the same rivers. Of all the steelhead and salmon rivers in Canada, the Skeena River is undoubtedly the king. Among its tributaries it boasts some of the best steelhead rivers in the world. These include the legendary Babine River, the Sustut, the Kispiox, the Copper, Kitsumkalum, the Bulkley, and the Maurice. To reach these rivers returning steelhead and salmon must run up the Skeena. In essence the Skeena is a super highway for these fish returning to their natal waters to spawn. As a result virtually year round you will find one or another anadramous fish in the Skeena.
Given the large breadth of the Skeena River over much of its trajectory one might think it would require long casts with a two hand rod to cover adequately. However, despite its intimidating size it is a relatively easy river to fish and a good caster can even do so with a one hand rod. Much of the river's shores are fairly even gravel with a gradual grade. Furthermore both the steelhead and the salmon which run the river tend to hug shores seeking the safety of fairly shallow water from the seals that will often follow them many miles upstream.  Thus, many times the trick to keeping one's fly in the corridor where most of the migratory pass more time is casting a bit shorter line.
The Skeena River system offers year round fishing opportunities. Throughout the winter the large tributaries continue to fish well. This is the time of the year that some fisherman call the "secret season" when very few anglers are out and the rivers hold good numbers of steelhead in bright spawning colors. As March and April come around bright fresh steelhead will begin running up the main stem of the Skeena itself anticipating all of the other migratory runs. May and June will bring the first chinook, sockeye and chum salmon to accompany the unending run of steelhead. Enter July and the largest run of chinooks will hit the river. Huge specimens present quite the challenge to fly fishermen and their tackle in the currents of such a wide open river where they have everywhere to run. Some of the world's largest steelhead will accompany them. The variety and abundance of fishing continues with multiple species throughout August. In September and October fishermen delight themselves with a combination of steelhead and large coho salmon. The Skeena boasts some of the largest coho salmon in the world and it is not altogether uncommon to hook specimens of over 20 pounds.
For those who prefer to stay in a hotel PescaTravel uses Terrace as a base of operations arranging guided outings with several excellent independent local outfitters. Each morning guides will pick up our clients at their hotel for the short drive down to boat ramp to launch on the Skeena. Or depending on the time of year and river conditions we will arrange fishing on the upper Kalum, the Copper River, the Kitimat or any one of a number of coastal rivers. For those who prefer the comfort of a good lodge, PescaTravel also arranges all inclusive programs with several excellent lodges in the area.
Steel head, salmón coho y chum: 7 to 9 weight one or two hand rods with a selection of floating, intermediate and sinking lines down to a type 8. Effective flies include intruders in a variety of colors, egg sucking leaches, wooly buggers o large dry flies such as polywogs or bombers. Spinning rods of up to 3 meters with 15 to 20 lb test lines. Lures such as Nº 2 Silver Fox in orange, pink, red or chartruse, Spin and glows.
Chinook salmon: 9 to 11 weight one or two hand rods with skagit lines and interchangeable sink tips form a type 3 down to a type 8. Large streamers such as intruders in pink, blue, orange, purple, chartreuse, egg imitations such as fat freddies.
Depending on the program we offer various lodging options including hotels in the middle of town or a comfortable riverside lodge.
To get to Terrace most guests fly commercial from Vancouver to Terrace. If you are coming from the lower 48, Canada or Alaska, Terrace is well connected by highway.
Location: The Skeena river is located om the west coast of Canada in the heart of British Columbia. Our center of operations for this program is Terrace.
Season: All year
Best dates:
Chinook & Sockeye Salmon: Mid-June to Mid-July
Coho Salmon: Mid-September to mid- October
Chum Salmon: Mid – July to Mid- August
Steelhead: March – April, August to November
Nº of rods permitted: NA
Fishing technics allowed: Fly and artificial lures
Species available: Steelhead, king or chinook salmon, sockeye salmon, coho salmon, pink salmon and dolly varden.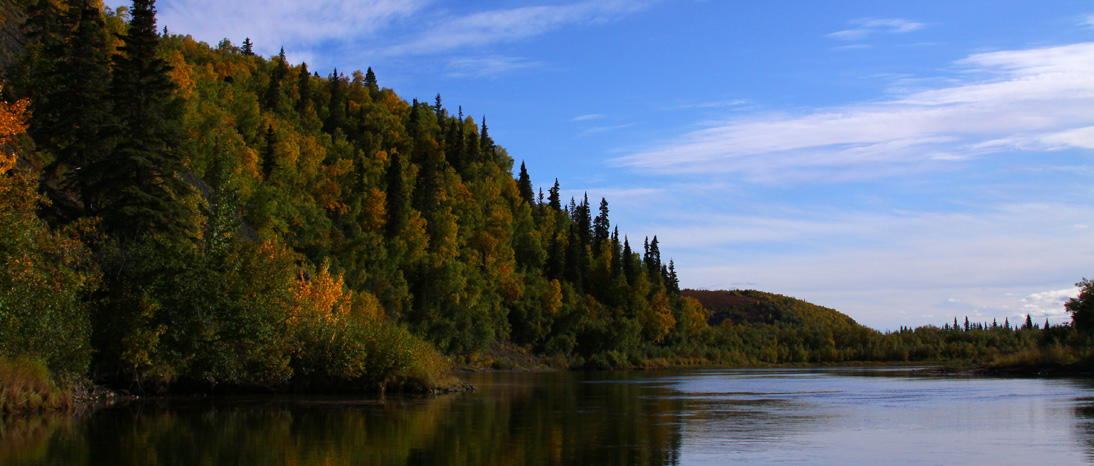 The Unalakleet is a remote destination on the west coast of Alaska just south of the Bering Strait. This is a fantastic destianation for those looking for great fishing away from the crowds. The silver salmon fishing is tops!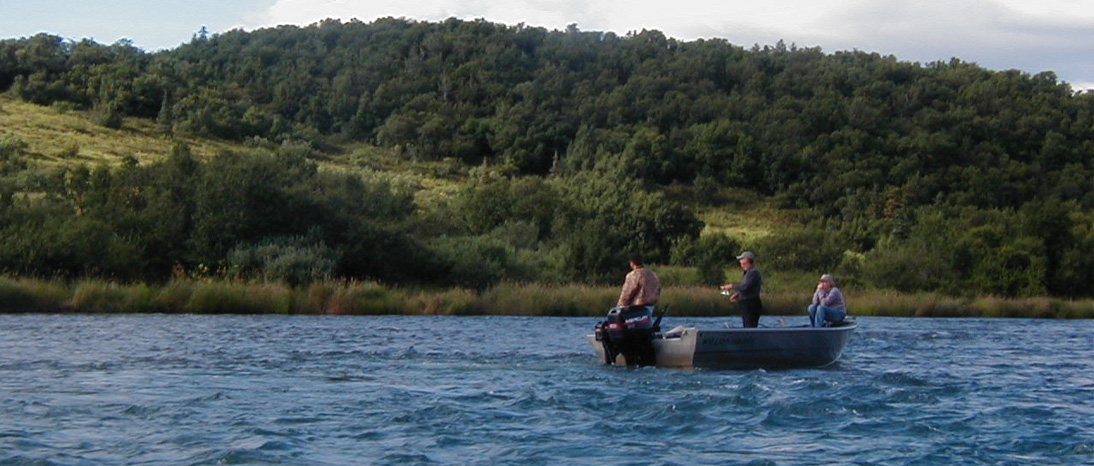 The Naknek is an extremely versatile river which offers excelent fishing for sockeye and silver salmon as well as huge rainbow trout. In fact, it is one of Alaska's best rivers for trophy size rainbow trout. Other species available include pink and chum salmon and a few kings as well as dolly varden and graylingnte.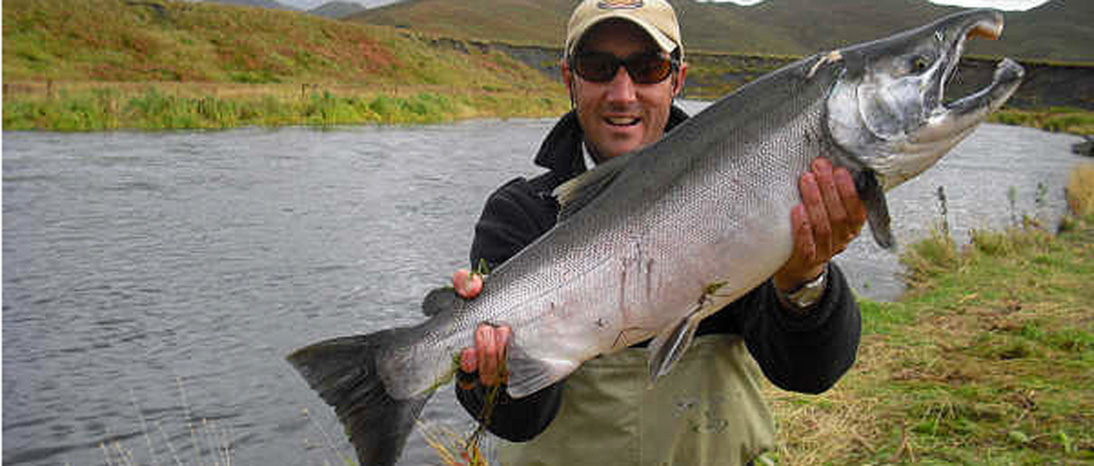 The best river on the island of Kodiak. This is an idela destination to sight fish for king or coho salmon on the fly. Later in the seasonit also gets a run of steelhead. An added benefit is that you will almost certainly get a chance to do some bear watching.