It was not by chance that Hemmingway, a passionate sport fisherman, chose Key West as his personal refuge to rest, relax, write and fish. He kept house here for 30 years. The charm of this unique destination continues to attract sport fishermen from all over the world. According to IGFA, more international records have been broken in the Florida Keys than any other fishing destination in the world. There are 225 species of sport fish which inhabit the waters of the Keys. The diversity of habitat make it a paradise for the salt water sport fisherman.
On one side of the islands we find extensive flats of white sand and sea grass. These are ideal areas to fish for bonefish and tarpon. The later is considered the king of sportfish species for the flyfisherman in the Keys. Nevertheless, tarpon take bait or artificial lures as readily as flies. When fly fishing for them we use fast boats equipped with casting platforms. From this elevated position on the bow of the boats the flyfisherman has greater visibility allowing him to locate fish and excute long range casts. In order to be effective, one should be able to cast distances of 20 to 30 meters.
On the north side of the islands in the so called back country, we find protected mangroves where juvenile tarpon adn other fish find refuge. The backcountry also offers fantastic fishing for sea bass, permit, redfish, snook, snapper, cobia, jewfish, grouper, sharks among other species. Outside of the reefs the sea floor falls away quickly. Wreck fishing is extremely popular os también es muy popular as these structures provide shelter to amberjack, cubera, shark and many other large fish.
A bit farther out, about 20 miles from Key West we find the area called "The Wall" (la pared). In these deep waters we fish for pelaegic species including blue and white marlin, sailfish, dolphin and a variety of tuna among other species. The wall marks the edge of the continental platform where the ocean floor falls away vertically to depths of over 600 meters. Here the golfstream collides with the wall creating and upwelling of nutrient rich waters from the depths of ocean. The result is an area rich in plankton and enormous schools of small fish that feed on it. These in turn attract large predators in the form of a variety of tunas and billfish.
The famous "cracks" in the wall, East Crack, Middle Crack y West Crack create known hotspots for marlin fishing where the cracks create valleys that currents follow creating additional upwellings. These spots are legendary among marlin fishermen and this is where you will find some of the world's best marlin fishing professionals. Without a doubt this is also a place any authentic marlin aficcionado will want to fish at least once in his or her lifetime
Our local operators will provide all of the equipment necessary for spin fishing, fly fishing and deep sea fishing.
If you prefer to bring your own fly equipment, for tarpon we recommend 9 foot 11 or 12 weight fly rods with 60 to 80 lb test leaders. Effective flies for tarpon include: Black Death, Sand Devil, Cockroach, Green Hornet, Marquesa Sunrise, Palalo Worm Fly.
For bonefish we recommend, 9 foot 6 to 8 weight rods. Effective flies include: crab imitations such as the merkin or cracked crab in different tones of orange, brown, whote and olive and other flies such as the Sili Toad, Brewe's Toad or the TK Special. Take note that it is important to use lines designed for tropical saltwater fishing.
We can arrange for lodging at one of the hotels located in Key West to make for easy access to the marina from which the charters depart.
Driving along US1 from Miami International Airport, you may take from 3 and a half to 4 and a half hours to get to Key West. To get to the first islands from Miami it takes about one hour. After reachinghte first island, Key Largo, the trip is over succession long bridges virtually in the middle of the sea connecting the islands. Another option is to fly from Miami to Key west. 
Location:  Key West is located at the southern most point of Florida, 250 km  from Miami. It is the last island of the keys and is closer to Havana then to Miami. 
Season: All year
Best dates: 
Bonefish and tarpon: April – June
Marlin: April – October
Sailfish: September – November, January – March
Nº of rods allowed: N/A Back country charters usually take two fishermen to a boat. Deep sea fishing charter can take up to 4 fishermen confortably
Fishing technique practced: Bait, spinning, jigging, fly fishing and trolling
Species available: Bonefish, tarpon,  blue and white marlin, sailfish, shark, dolphin fish, wahoo, barracuda, bonito, tuna, etc… 
The area around Quepos is protected from winter winds which are typical of the northern Pacific Ocean favoring the fishing throughout the season. December to July is the best time of the season for sailfish, while the best fishing for marlin is between December en February. The fishing offering is rounded out with rooster fish, wahoo, dorado, yellow fin tuna and more.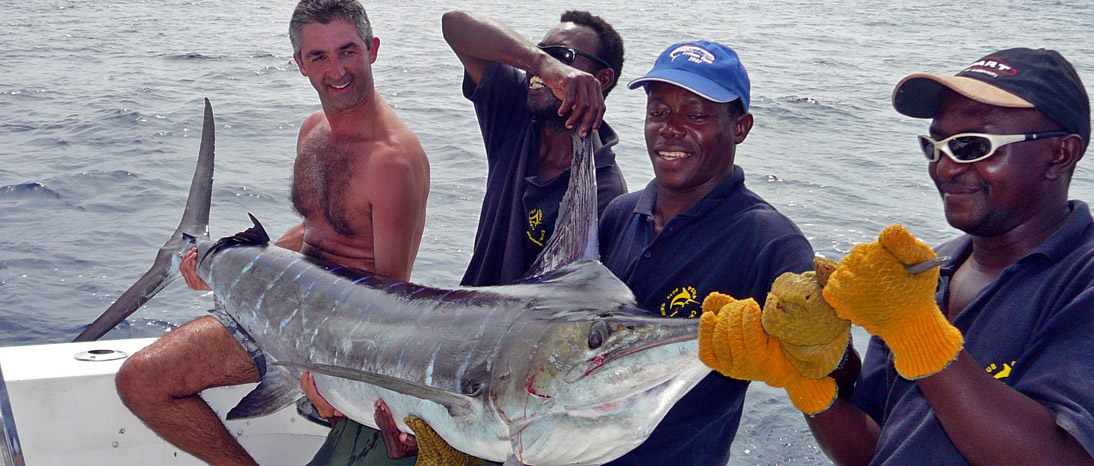 The Pemba Channel in Kenya us known as the best place in the country for big game fishing, but it is probably also the best destination in all of Africa. Our partner in Kenya, the Pemba Channel Fishing Club has an excellent reputation especially for marlin fishing. In fact, over 60% of the marlin records in Kenya and 7 IGFA all Africa records are held by the club.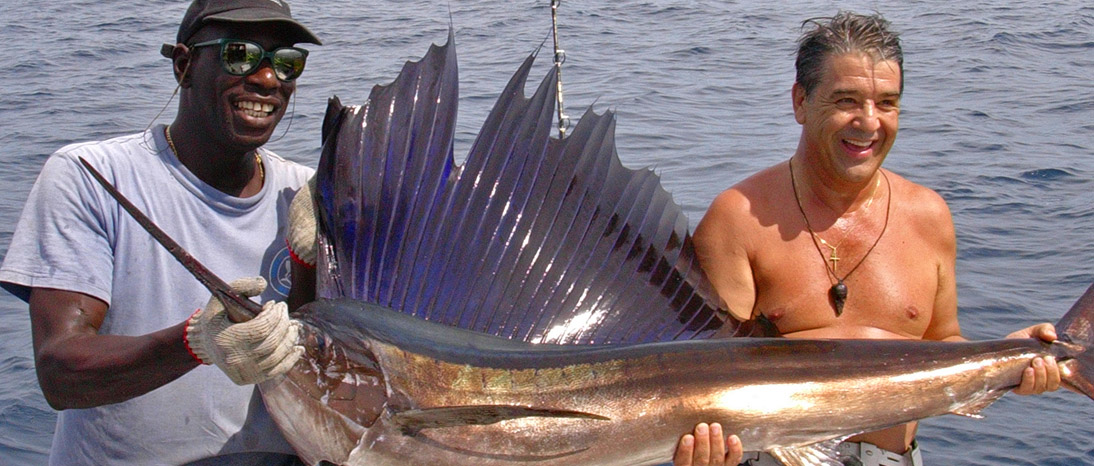 Our fishing programs in Senegal are centered in Dakar and Saly, where we can find some of the best big game fishing in the country as well as all of the comfort of the best hotels. Depending on the moment of the season Senegal offers excellent fishing for sailfish, blue marlin, white marlin, tuna, and more.