ASportfishing has a long history in Norway. By the 18th Century English Nobles had already discovered the rivers of Norway as ideal destinations to fish for large Atlantic salmon on the fly. They would end up buying out the rights to some of the best rivers in Norway for their summer sportfishing destinations. Rivers such as the Aroy, the Namsen or the Reisa became the exclusive domain of a handful of privileged English fishermen for many years. Black and white photos of fishermen with enormous salmon bear testimony to these days. Today the salmon rivers in Norway are the destination of choice for travelling fishermen seeking trophy Atlantic salmon. After a number of difficult years in which some of the top salmon rivers in Norway had been devastated by gyrodactylus slaris infections, they are once again producing the trophy fish of yesteryear.
When we think of Norway, we think of wide powerful rivers which require flyfishermen to make good use of a large two handed rod. However, although many beats permit fly fishing only, there are still some very interesting options for spin fishermen. Generally salmon season in Norway begins at the beginning of June and extends until the end of August. The first part of the season is often only for the brave. These are dates we associate with cold high waters, cool and unstabie weather, (especially in the north), big rods with heavy sinking lines and the largest salmon of the season, (though this is most often the part of the season when the salmon are the scarcest). We should be aware that the risk of blank days or even weeks is greatest at this time of year. However, the rewards can be enormous. As we reach the end of June or the beginning of July, the numbers of fish entering most of the rivers will increase substantially. Depending on the river and the climate, August is often when we will find some of the most difficult fishing conditions if the summer has been warm and dry. Some rivers may suffer low water levels and high water temperatures. However, this often the best time to fish hitched flies on the surface with lighter rods.
Our Destinations in Norway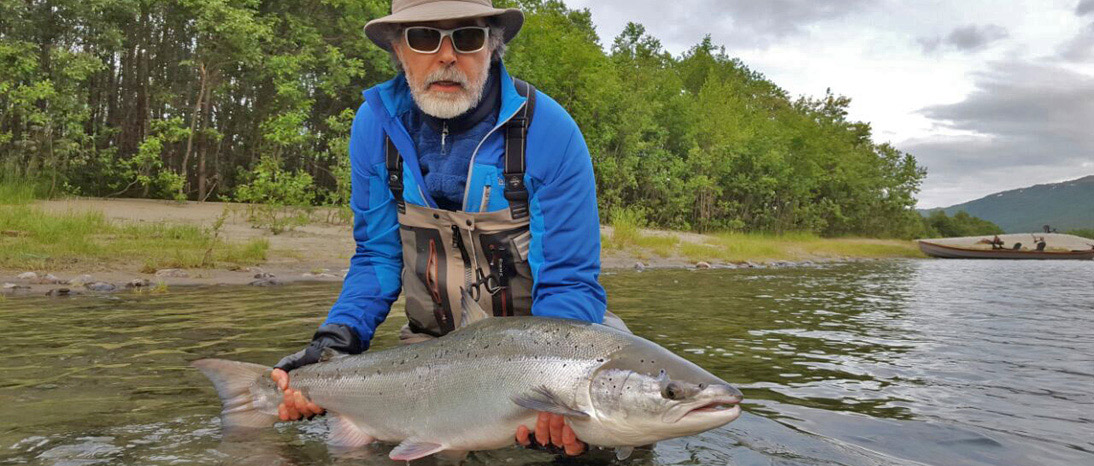 Not far from its sister river the Alta, the Reisa is also an excellent destination for very large salmon on the fly. In contrast to many other salmon rivers in the world the returns of very large salmon are constantly improving.