The Andakilsa is a small two rod river on the west coast of Iceland. It is a favorite of local fishermen because of its excellent grilse run and close proximity to Reykjavik. The Andakilsá's smooth currents are particularly well suited to fishing hitched flies on the surface. It also offers some excellent pools to sight fish for salmon. One of the advantages the river offers are relatively consistent avaerage water temperatures, unlike many rivers on the west coast of Iceland. 
It is a short river which originates in Lake Skorradalsvatn and flows 10 km before it joins the Hvitá River near the town of Brogarnes only one hour away from Reykjavik by road. The river offers a salmon section of 5 kilometers of relatively calm waters winding through fertile lowlands. This section is fished by only two rods purchased together. Between 2006 and 2015 the average annual catch of salmon was 387. Historically, the bulk of the catch is made up of grilse, usually with few two sea winter fish. 
In 2016 the river was closed due to huge mud spill that rendered the spawning areas enviable for several years. After a huge clean up and and extensive program of reseeding the river with smolts we are very happy to say that the Andakilsá is back and looking better than ever! During the 2020 season a small number of lucky fishermen were allowed to test fish the river and the results were spectacular. The average catch per rod was 16 salmon per day! The year 2021 marks the reopening of the river to the general public for bookings via authorized agents. PescaTravel is very pleased to include it in our offering!
An excellent three room self-catering lodge is provided for visiting fishermen along with permits upon reservation. The reservation of a guide is optional but highly recommended, at least for the first day of fishing. The river is ideal for family visits or for fishermen with reduced mobility as access to the river iis easy and the two permits come with an excellent riverside self-service lodge with 4 beds. 
Six to eight weight one hand fly rods, with floating lines.
Effective flies include Red and Black Franceses,Collie Dogs Hairy Marys, Blue Charms, Munroe Killers, Undertakers, Green y Red Butts in sizes 10 to 14.
Fishing permits come with the right to use an excellent fully furnished cabin with two double rooms. The lodging is self-sevice. The cabin has a fully equipped kitchen, dining room and sitting area with a television, freezer for fish, ho tub, and a barbecue. There is good mobile phone coverage at the lodge.
Guests generally fly into Keflavik International Airport. To get to the lodge from Reykjavik, you take Road 1 north, turning off to the right on Road 50 just before the bridge at Borgarnes Fjord.
Locatión: Next to Borgarfjörður,  100 km to the west of Reykjavík
Season: From 1 June to 30 Septmber
Best Dates: Early July to mid September
Nº of rods allowed: 2
Techniques allowed: Fly only
Species: Atlantic salmon, brown trout and char
Nota: Fishermen should be aware the Icelandic authorities require that any fishing equipment brought into the country be sterilized appropriately with a proper veterinary's certification. Sterilization of equipment may also be done at the airport.
In order to travel to Iceland, you should have a valid passport valid with an expiration date at least 6 months after the planned return date. A visa is not required for EU or US citizens.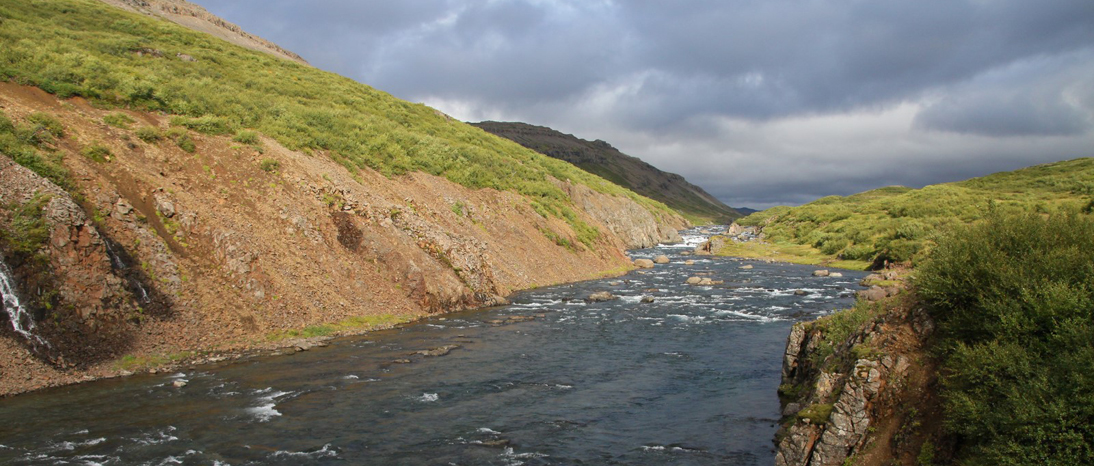 A fantastic grilse river with a wide variety of beautiful fly water ideal for fishing with one hand or switch rods. Every year it ends up as one of the top ten rivers in Iceland in salmon caught.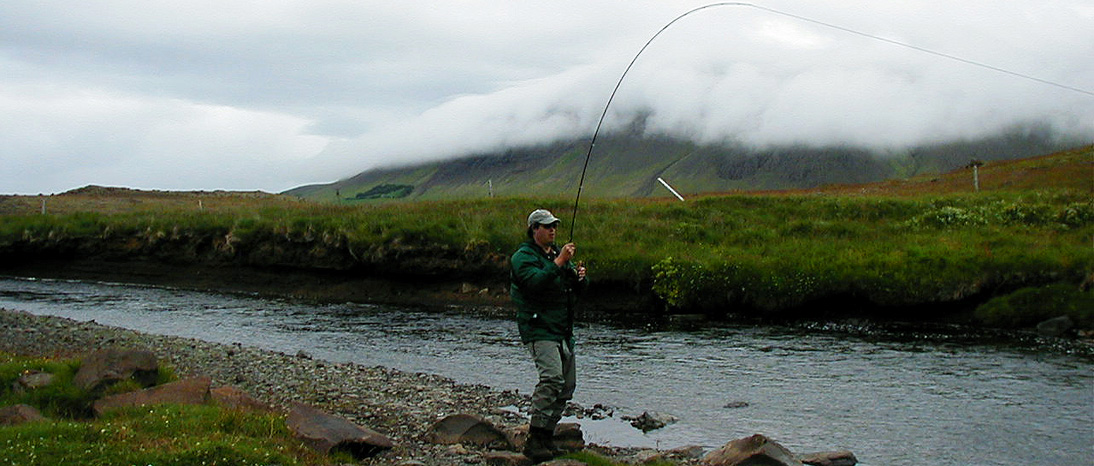 They say that the fisherman who learns to fish this river properly, can fish any river in Iceland successfully. Its waters can be extremely technical and demanding, offering great opportunities to test ones skill fishing with floating lines and flies as small as a size 18. Every year it ranks among the top 10 rivers in Iceland in terms of annual catch with an average of around 1,200 salmon caught per year.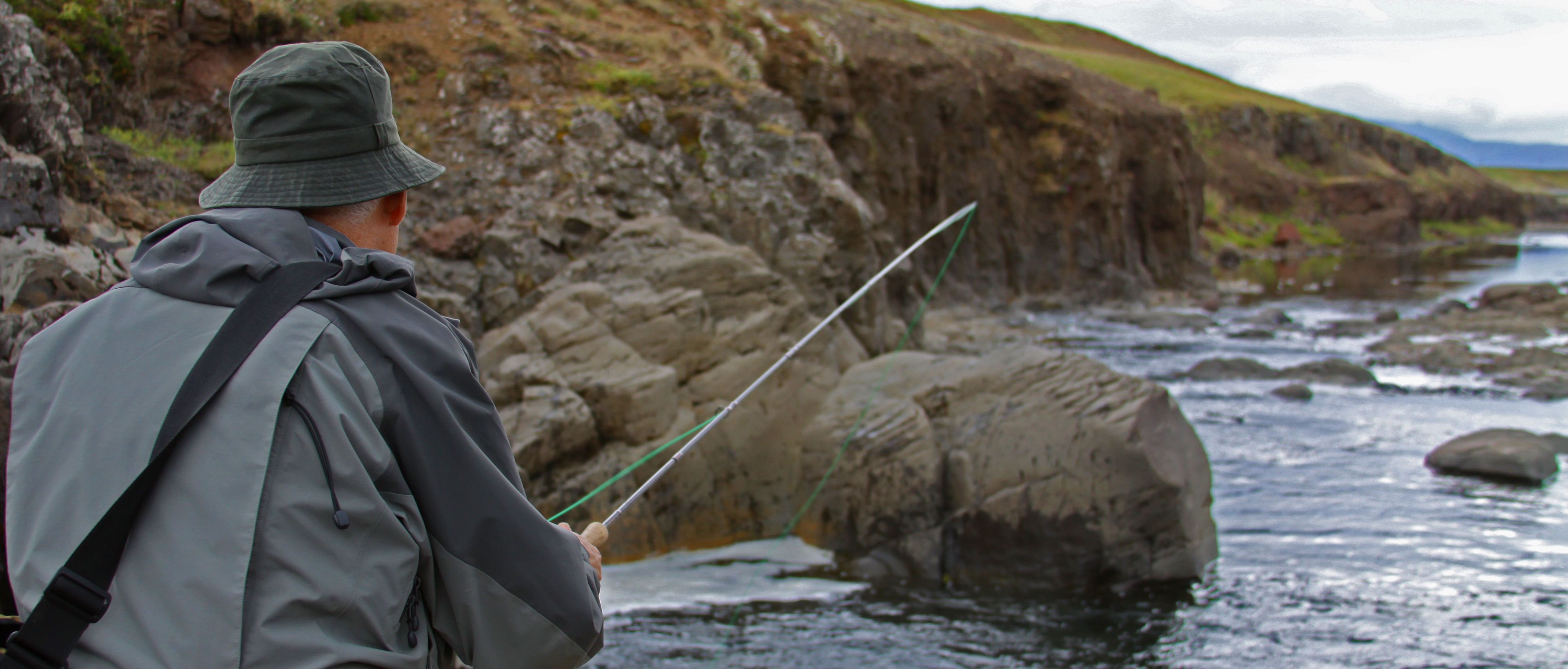 This wonderful little river on the west coast of Iceland has a fantastic average of around 1000 salmon caught on just 6 rods during an 80 day season. The majority if the fish caught are salmon weighing between 5 and 12 lbs, but every year fish in the 20+ lb category are caught.