East Rangá River, Iceland
Thanks to it's program of massive smolt releases, the East Rangá has become one of the top two most productive salmon rivers in Iceland each year vying for first place with its sister river the West Rangá. It is large salmon river by Icelandic standards ideally fished with 14 to 15 foot two hand rods. It is large river characterized by large meanders, smooth currents and a mostly sandy bottom which makes for easy wading. The part of the river that is fishable totals 22 kiometers which are divided into 9 beats fished by a total of 18 rods in rotation. All of the beats offer good access by 4 wheel drive vehicles. During the first part of the season it is strictly for fly fishing, but from September on worming and spinning are also allowed. 
The average annual rod catch for the East Rangá is around 4000 salmon over the 120 day season, but there have been years in which the total annual catch has been much greater. As recent as 2020 the total came to 9070 salmon for the season.  Happily, fish sizes have also increased over the years with surprising numbers of 2 and 3 sea winter salmon weighing 4 to 7 kilos. One of the big advantages that both of the Rangas have over most of the salmon rivers on the west coast is that even during extended periods of drought, that ofter occur during the summer in Iceland, they maintain good flows.  The best dates to fish the East Ranga are usually from mid-July until the end of August. September fishing can also be spectacular, but fishermen should be aware that the chances of heavy rains muddying up the river increase during those dates.  
In order to insure good catch numbers the East Rangá has maintained one of the most extensive smolt release programs in all of Iceland. Like many other rivers in Iceland, the river management operates a hatchery porogram in which alevins are released into small protected river branches where the are fed and raised until they smolt and are released to go out directly to the sea. Fishermen are instructed to place any large females caught into live boxes in the river where the East Ranga river management can later collect them for use in their artificial spawning program.  
Fishermen have the option of staying at an excellent lodge overlooking the river. The East Rangá Lodge is a complex of 10 buildings connected by an elevated wooden walkway. Guests stay in comfortable single and double rooms, each with their own on suite bathrooms. During moments of relax, guests may enjoy a sauna or one of two jacuzzis situated on the back deck of the lodge with a fantastic view of the river. There is also a a large lounge and dining room where guests can chat and have a drink before or after dinner.  
For fly fishing we recommend 14 to 15 foot 7 to 9 weight two hand rod swith floating lines and a selection of sink tips.
Popular flies include: Snaeldas, Blue Charms, Black & Blues, Green Brahans, Collie Dogs, Black o Red Franceses on 6 to 12 size hooks as well as a variety of hitch flies.
Fishermen have the option of lodging at the East Rangá Lodge,  where they will be accommodated in comfortable single and double rooms, each with their own on suite bathrooms. Lodge facilities include a large lounge and dining room where meals are served,  a sauna, two jacuzzis situated on the back deck of the lodge with a fantastic view of the river and a rod and wader room to store gear. There is good cell phone coverage at the lodge. 
Guests fly into Reykjavik Airport and generally rent a vehicle to drive to the river. The Nordlingafljot is located 125 kilometers to the north of Reykjavik. To get there you take Highway 1 north from Reykjavik turning off to the right onto Highway 50 just before crossing Borgarnes Fjord. You follow Highway 50 until the turnoff to Highway 518 folowing this road to Husafell. 
Location: Southwest coast of Iceland 105 km to the southeast of Reykjavík.
Season: 15 de June to 15 de October
Best dates: 20 July to end of August.
Nº of rods allowed: 18
Fishing techniques allowed: Fly all season and bait and lures after 1 September
Species available: Atlantic salmon and brown trout
Note: Fishermen should be aware the Icelandic authorities require that any fishing equipment brought into the country be sterilized appropriately with a proper veterinary's certification. Sterilization of equipment may also be done at the airport.
In order to travel to Iceland, you should have a valid passport valid with an expiration date at least 6 months after the planned return date. A visa is not required for EU or US citizens.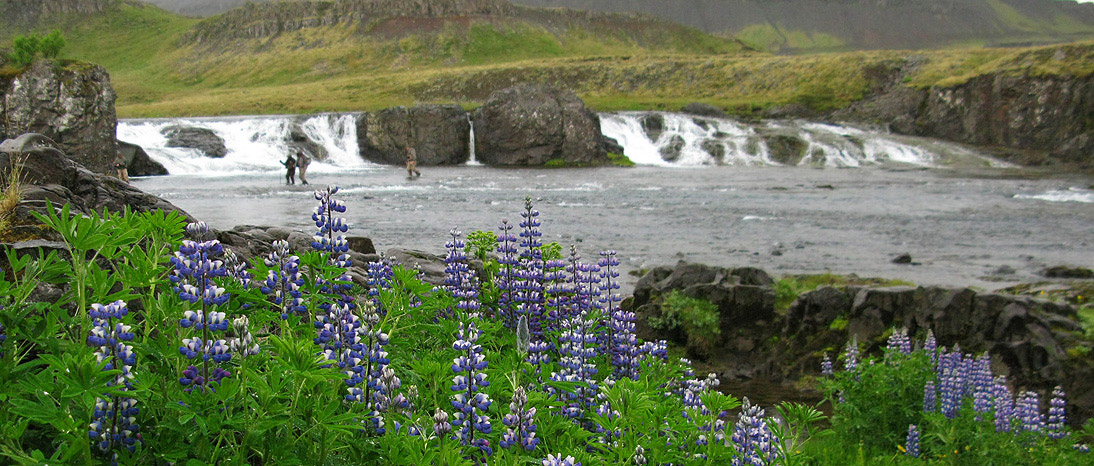 Considered by Icelanders to be the most beautiful river in the country, the Nordura usually ends up among the top five salmon rivers in the country in total annual catch. Its waters are varied and interesting and best fished with a light 2 handed rod or a switch rod early in the season. Fishermen stay at a good full service lodge overlooking the river,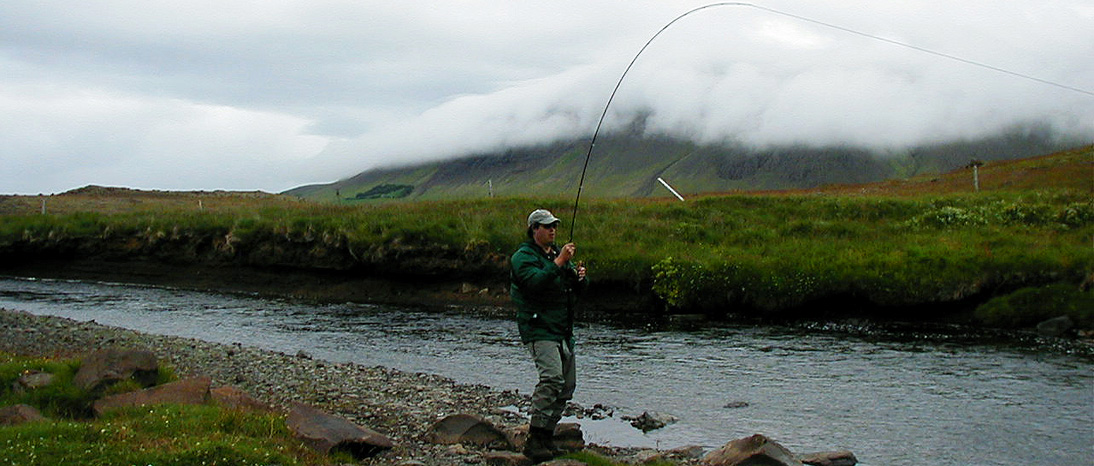 They say that the fisherman who learns to fish this river properly, can fish any river in Iceland successfully. Its waters can be extremely technical and demanding, offering great opportunities to test ones skill fishing with floating lines and flies as small as a size 18. Every year it ranks among the top 10 rivers in Iceland in terms of annual catch with an average of around 1,200 salmon caught per year.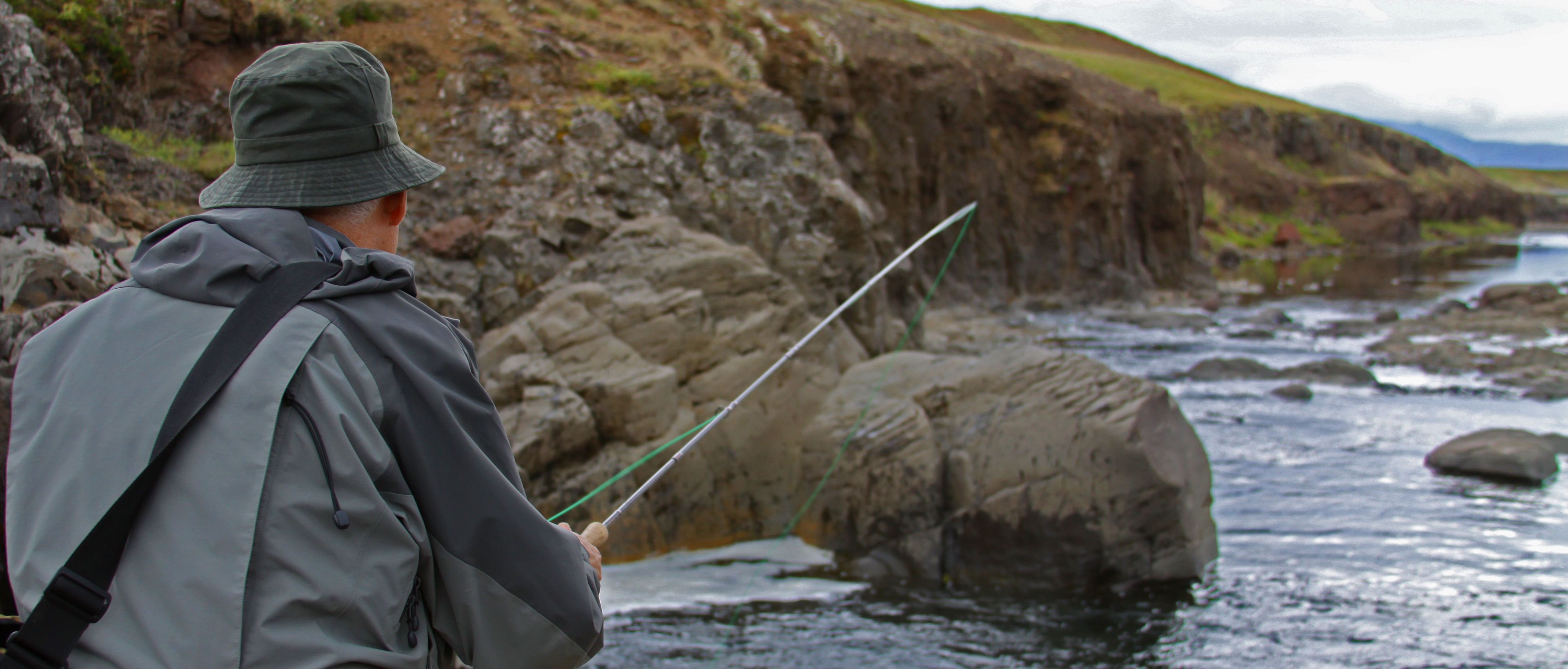 This wonderful little river on the west coast of Iceland has a fantastic average of around 1000 salmon caught on just 6 rods during an 80 day season. The majority if the fish caught are salmon weighing between 5 and 12 lbs, but every year fish in the 20+ lb category are caught.