Most anglers who visit Lake Nasser for the first time will catch the largest fresh water fish of their life; practically everyone achieves this goal and has an angling adventure they will never forget. Lake Nasser is the greatest venue in the world for Nile Perch, which only exist naturally in the African river systems and lakes. By comparison with other lakes in Africa Lake Nasser is remote and sparsely populated, this isolation has allowed the lake to maintain an excellent number of big Nile perch. While your lure is in the water you literally don't know if the next fish is going to be a 20kg or over 100 kg pharaonic fish.
In the 1960's a dam was built on the Nile at Aswan (South Egypt, Upper Nile) the resulting Lake Nasser has flooded over 6,200 square kilometres of the Nile Valley, creating one of the largest man made lakes in Africa. The fish population of the original river was presented with a huge lake to live in and have thrived in their new habitat, especially the Tilapia and their predators, Nile perch, Tiger fish and the big catfish. We count around 32 species in the lake. Broadly speaking the year is divided into two season summer and winter (northern hemisphere).
Summer Season – from March to end of September. From approximately mid March through to the end of September the Nile perch are found in shallow water. This is because the Tilapia, the Nile perch's principal prey, are spawning and then after spawning the huge population of Tilapia fry are growing up; all this takes place in water between 10 to 20 feet. This is the best time of the year for shore fishing and fly-fishing. Trolling provides good sport using shallower lures. There are still a lot of big Nile Perch around but they tend to be less concentrated than during the winter season. August and September are very hot on Lake
Nasser Winter season – from October until end of February. The Lake is at its highest level and the Nile perch are found in deeper water. We feel that the bigger Nile perch are feeding up and then coming together to get ready for spawning which takes place sometime in January / February. Year after year we capture bigger fish during this season and almost all these fish are caught trolling over underwater promontories and sunken islands. The winter months are not the best time for shore fishing. Also, fly-fishing is difficult because it is harder to get down to the fish lying in deeper water and there are often windy conditions. If you want to capture the big fish then the winter season is your best bet. The summer season will provide you with more action and fun but the average size of the fish captured tends to be smaller. When referring to smaller Nile perch we are talking about fish between 15 and 35 kg while the bigger Nile perch can grow up to 100 kg+.
Aside from terrific angling, the lake is a lovely place to visit. It's a magical wilderness of stunning desert scenery, bordered by the clean and pure water of the lake, which is dotted with rocky islands; there is an atmosphere of tranquillity, vastness and adventure; a wilderness where anglers literally have hundreds of square kilometres for themselves. The shoreline is a variety of desert landscapes, hilly and rugged, or flat and sandy with clean freshwater beaches. The weather is nearly always sunny and bright, in five years we have never needed to take shelter from any rain! The lake is remote and thinly populated by peasant fishermen; the local residents are Bedouin camel and sheep herdsmen who are occasionally seen grazing their flocks on the sparse vegetation at the edge of the lake.
Trolling Rods & Reels: Trolling rods are generally a boat or up-tide rods of 20 – 30lb class and between 7′ and 9′. These should be teamed with medium sized multipliers capable of holding 200 yards plus of 30lb line. Abu 7000 and 10000, Shimano TLD 15 & 20 and Penn GLS 25 are suitable. Experienced anglers might prefer to use slightly lighter rods for trolling because many of the fish they will be catching are in the 15lb to 30lb bracket and there is not much sport involved in cranking this size fish in with a heavy rod. Lighter trolling or boat rods will be much more fun until you connect with a fish from 75lb upward, then you will have your work cut out; fighting from a boat, so long as the fish is kept in deeper water, a good angler will be able to cope. Shore Fishing Rods & Reels: To land a big fish from the shore, you need to fish heavy. Bring strong equipment rods between 20 to 50lbs with a minimum of 2.7 meters long. A strong reel is important it should contain a minimum of 200m of adapted nylon, don't use braid line for shore fishing because of the rocks! Line: Don't underestimate the strength of Nile perch, and the terrain they inhabit. We recommend a minimum of 30/40lb mono for trolling and 20/25lb line for the shore. For Tigers and smaller perch 10/15lb monofilament is fine. Leaders / Traces: Our preference is monofilament, 80 to 100lb for trolling and 60 to 70lb for shore fishing. Mono lacks finesse and is difficult to knot, but is strong, better camouflaged and is reliable. It also has the ability to stretch and bounce over rocks. Recommended lures: From Butcher Tail: "Depth Raider 8" straight and jointed, the biggest sinking in FT, Suker or Cisco, Original Perch und red/yellow, "Baby Depth Raider 6" sinking and floating, straight and jointed (red and yellow, perch, fire tiger, greyline), (difficult to buy, online www.jacksonlures.com), Rapalas Super Shad Rap 14 und Count Down 14 (orange, ft, red/white, blue, grey natural, Tail dancer big (Perch, FT), Strom Deep Thunder 15 cm, Rapala Deep Tail Dancer 11 cm, Musky Mania Tackles "Ernie & Little Ernie" (Fire Tiger, orange), Sorcerer Halco 15 cm, Orange/Rot, Mans lures 25+, not 30, FT, Russelure 6.5 inch, Old original Storm big mac, Litt'l Ernie (Musky Mania Tackles), Lucky Craft Flat CB DR, 7,5 cm,: Green Apple, FT, Mat Tiger and Green Perch. Especially for Tiger Fish: Rapala Rattlin and X-Rap 10 cm, Rapala weed less minnow spoon RM6, Steysee Lucky Craft, Small Meps white, silver and gold Nr. 2 Fly fishing: The rod: 9 ft for 11 to 12 sinking line is the best. Take one with a tip action. Bring also an 8 line for smaller perches and Tigers. The reel: It should contain 200m of 30lbs backing, with a good brake system. The line: 2 types, an 11 very fast sinking (Teeny or Rio 400) and an 8 intermediate for smaller perches and Tigers. Bring spare line in case a big perch brakes it in the rocks. Streamers for Lake Nasser: They have to be big, around 20 cm, with 2 strong single hooks 5/0. Rabbit gives them a good appearance and you think they are alive once you put them in the water.  All the big flies for pike can work but they should be strong with very sharp hooks. Many colours work too with a special mention for chartreuse and orange, black. For tigers, use small streamers for trout or bonefish.
Each traditional boat or supply boat has comfortable on board sleeping and cooking facilities with sleeping bunks each with full-size single mattress. This area also provides spacious daytime seating and resting. supply boats carry the safari equipment, provisions, fuel, cooks, helpers etc. They have built-in kitchens, toilet and shower and iceboxes to keep drinks cool. The supply boats are fitted with VHF radio and keeps in contact with our base in Aswan at all times. A supply boat enables comfortable camps to be set up close to the best fishing areas, even when the shoreline is rocky and inhospitable. The Nubian staff will surprise you with their ability to conjure up amazing food in the middle of nowhere. The style of cooking is a blend of western taste merged with Nubian cuisine, which is superb. We guarantee hygiene standards. This style of camping is comfortable and safe but still maintains the adventurous safari
Lake Nasser is located in Southern Egypt and is actually divided by the border with Sudán, although our program takes place entirely in Egypt. To get there guests fly into Aswan usually from Cairo. There they are received by program staff and taken to the boat to negin their adventure.
Location: Lake Nasser is loacted in southern Egypt and northern Sudan. The entire program takes place in Egypt.
Season: All year (however summer months are very hot).
Best dates: From March through September to fish for Nile perch in shallow water and for fly fishing. October – February to troll for larger nile perch in deep water.
Nº of rods allowed:
Fishing techniques allowed:
Species available: Nile perch, tiger fish, moon fish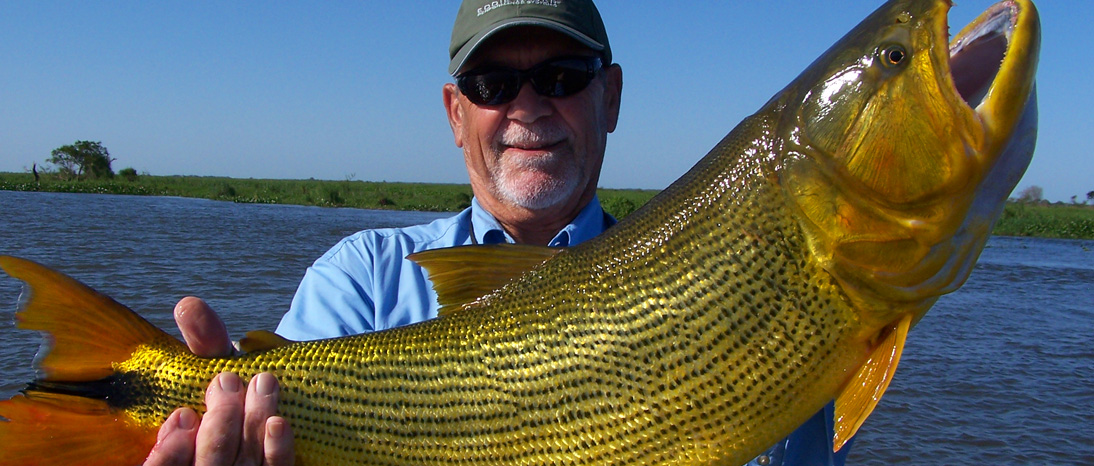 The golden dorado or "river tiger" as it is commnonly called in Argentina has gone from being a mythical South American fish to a highly prized fresh water game fish known for its agressive takes and acrobat fights. Esteros del Isoró is an ideal place to become acquainted with this species for both spin fishermen and fly fishermen.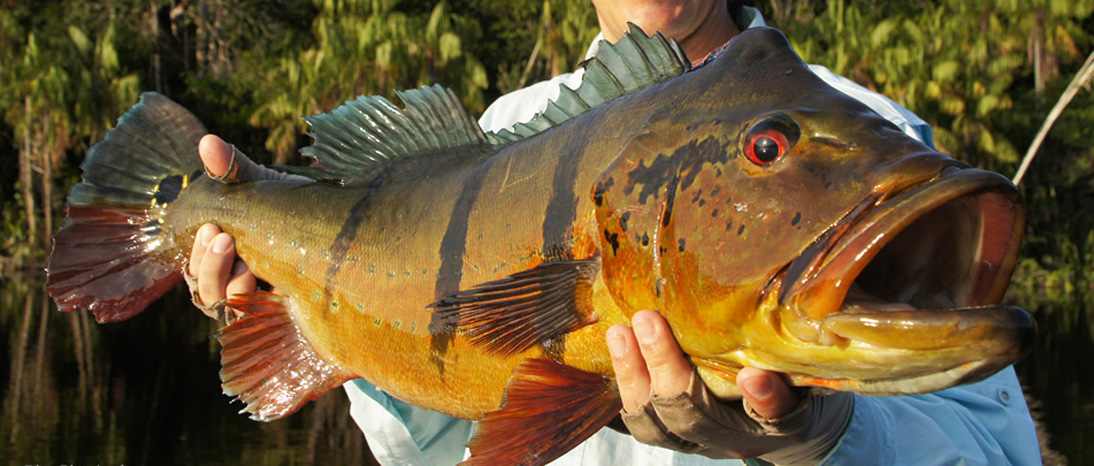 Without a doubt, no other fresh water game fish can compare and there is probably no better place to catch trophy peacock bass than the Rio Negro river basin in the heart Brazilian Amazon Rain forest. Guests fish virtually untouched tributaries of the Rio Negro that other sport fishing operations cannot reach.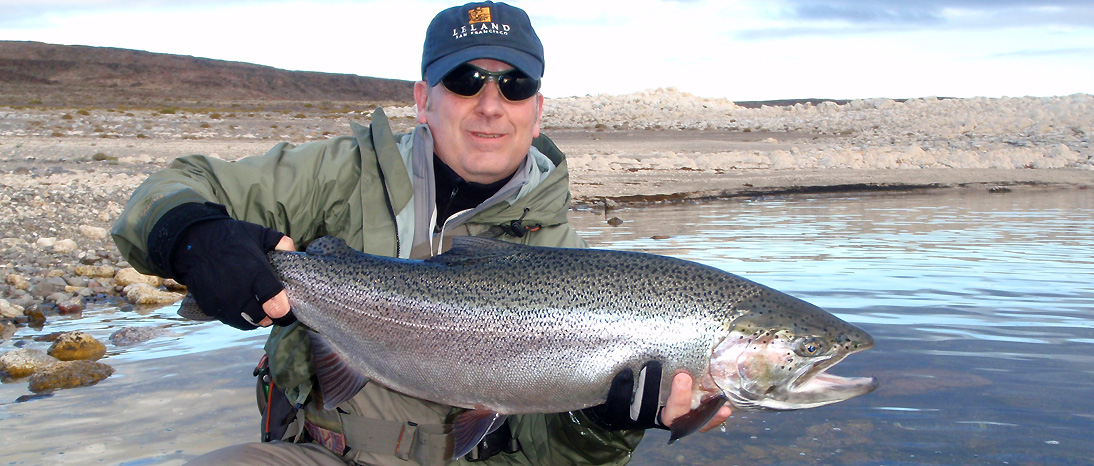 There is a growing number of fly fishermen that consider Lake Strobel the best trophy rainbow trout destination in the world. Here 8 to 10 lb trout are just average and beasts of up to 25 lbs are real possbility on every cast.