Lake Thingvallavatn, Iceland
Iceland's largest brown trout have inhabited Lake Thingvallavatn from long before the vikings ever set foot on the Island. In fact, it was 12,000 years ago during the last ice age that these brown trout became isolated in this strange habitat along with four species of char and an abundant population of stickle backs. Just a half hour's drive from Reykjavk, Thingvallavatn is Iceland's largest lake both in surface size and volume. The surface area of the lake totals 84 square kilometers and its maximum depth is 115 meters. The lake was created exactly on the fault line between the Eurasian and North American tectonic plates.
Over the centuries these trout have adapted to the deep crystaline mineral rich waters to become the super-predators of the lake growing to enormous sizes. Numerous springs filter through the lava rock in the bottom of the lake accounting for 90 percent of the water which feeds it. As a result most of the lake maintains a constant temperature of around 3 or 4 degrees thoughout the year. This in turn allows the Thingvallavatn trout to maintain their metabolism levels up and remain active even throughout the winter. Additionally after their hunting sprees these trout are known to congregate in geothermic areas where hot springs filter into the lake raising water temperatures even further accelerating their metabolism in order to quickly digest the fish they have eaten. With such an abundance of food and their unique biological circumstances it is no wonder that Lake Thingvallavatn brown trout grow so large.
The average size of Lake Thingvallavatn brown trout runs about seven or eight pounds, however, fish in the 30 pound plus range are not entirely uncommon. Given that these fish may live up to 15 years they have a long time to reach such proportions. Every year during the Spring these beasts emerge from the depths of the lake to hunt the shores for recently hatched char fry. This is undoubtedly the best time to tempt these fish with a fly from the shore of the lake. Although most of the trout will be caught on streamers in late spring there will also be times in which anglers may have success dry fly fishing. PescaTravel arranges fishing on several private beats which include the hottest spots on Lake Thingvallavatn where rods are very limited. Among these is the famous Ion Beat where the highest concentrations of large browns are found during the spring time or the .
For fly fishing we recommend 6 to 8 weight one hand rods with a selection of lines including floating and various sinking lines.
Popular streamers include: large articulated leeches, bunny flies, wooly buggers. A great variety of nymphs in sizes 10 – 12 including hare's ears, pheasant tails, peacocks, etc.  may also find success at times. Effective dry flies include black gnats, a variety of caddis patterns in sizes 14 to 18 and attractors such as royal coachmans will draw takes on calm days later in the spring or early summer.
Fishermen have the option of lodging at an old self-service country house located just minutes from the lake. The house accomodates up to 12 persons in 6 double bedrooms. The house has a fully equipped kitchen, living room and dining room. There is good cell phone coverage at the house. Guests may also stay at the Ion Adventure Hotel
Guests fly into Reykjavik Airport and generally rent a vehicle to drive to the river. Lake Thingvallavatn is located just 45 kilometers to the east of Reykjavik. To get there you take Highway 1 north from Reykjavik and just past Mossfellsbaer turning off to the right onto Highway 36. You follow Highway 36 for 25 km to reach the north shore of the lake.
Location:
 45 km to the east of 
Reykjavík
.
Season: 20 April to 15 de September
Best dates: 20 Early May to early June
Nº of rods allowed: Depends on beat
Fishing techniques allowed: Fly
Species available: Ice Age brown trout and char
Note: Fishermen should be aware the Icelandic authorities require that any fishing equipment brought into the country be sterilized appropriately with a proper veterinary's certification. Sterilization of equipment may also be done at the airport.
In order to travel to Iceland, you should have a valid passport valid with an expiration date at least 6 months after the planned return date. A visa is not required for EU or US citizens.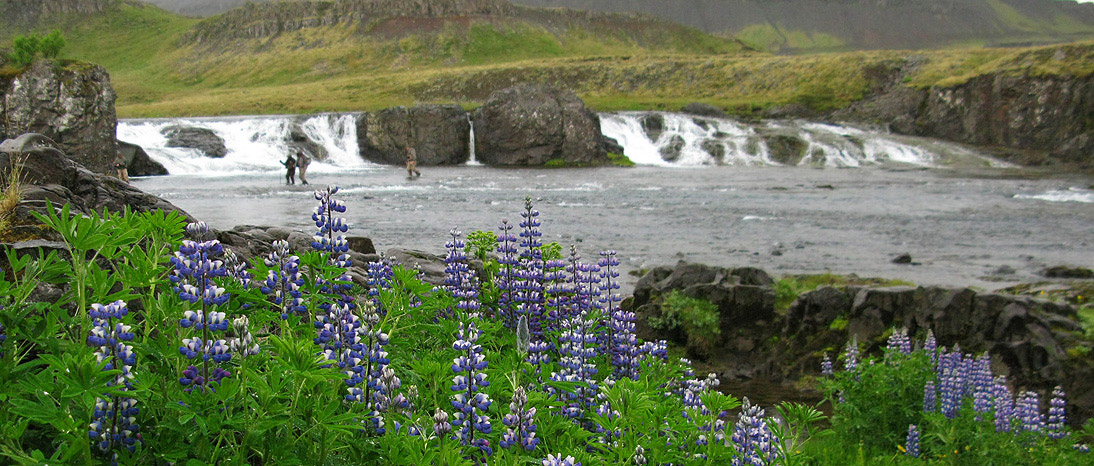 Considered by Icelanders to be the most beautiful river in the country, the Nordura usually ends up among the top five salmon rivers in the country in total annual catch. Its waters are varied and interesting and best fished with a light 2 handed rod or a switch rod early in the season. Fishermen stay at a good full service lodge overlooking the river,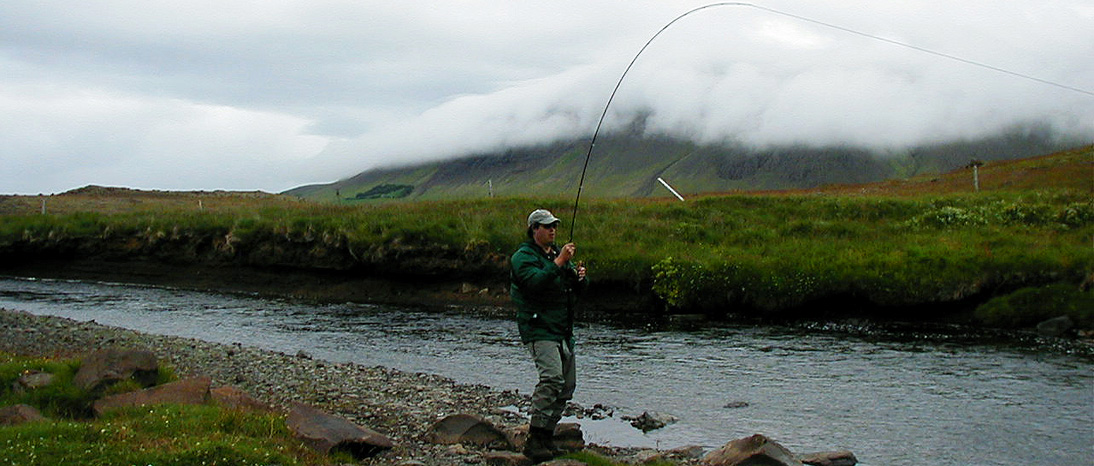 They say that the fisherman who learns to fish this river properly, can fish any river in Iceland successfully. Its waters can be extremely technical and demanding, offering great opportunities to test ones skill fishing with floating lines and flies as small as a size 18. Every year it ranks among the top 10 rivers in Iceland in terms of annual catch with an average of around 1,200 salmon caught per year.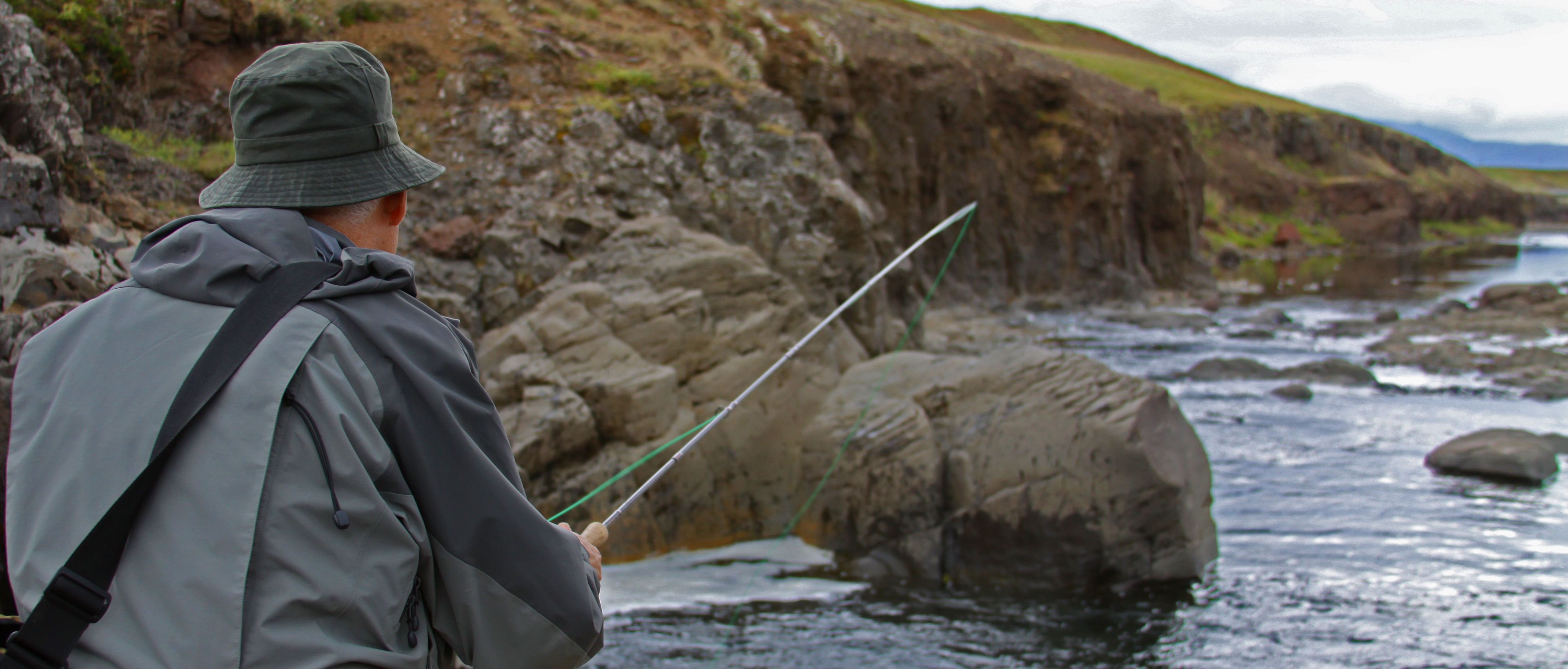 This wonderful little river on the west coast of Iceland has a fantastic average of around 1000 salmon caught on just 6 rods during an 80 day season. The majority if the fish caught are salmon weighing between 5 and 12 lbs, but every year fish in the 20+ lb category are caught.