Laxa in Myvatnssveit, Iceland
Laxa in Myvatn or Thingeyjarsyslu, (in English often called simply the Big Laxa) is a truly a world class brown trout destination for fly fishermen. Two of the very best beats are Myvatnssveit and Laxardalur, situated above the hydro electric dam at Bru. Both beats are fished with multiple rods and have separate full service lodges, the upper one called Hof, the lower one called Rauðholar. Below the dam there are five smaller trout beats for one to three rods and they are named Presthvammur, Hraun, Stadartorfa, Mulatorfa and Arbot. The upper beats are the more famous so to speak, however the fishing on the lower beats can also be exceptional.
Laxa in Myvatnssveit starts at the headwater lake, the world famous Myvatn, which literally translated means "Midge lake". It is broken up into various beats, the names of every one of them familiar to Icelandic trout fisherman: Hofstadaey, Arnarvatn, Geldingaey or Hamar. The river is made up of islands, channels, runs and assorted wide bay-like mini lakes called "flóar". Everywhere there is lush vegetation and a rich representation of bird life, including a wide variety of ducks. Among them "American" species Harlequin and Barrows Goldeneye which do not breed anywhere else in Europe, being natives on the North American continent.
The fish are of all sizes but apart from the stunning natural environment, the main attraction is the sizable average weight and the amazing fighting qualities of the brown trout. They are deep bodied and have a lot of water and a lot of strong current to help them out. Most of the time, anglers will be hooking and fighting 2 to 5 pound browns but 6-7 pounders are not uncommon at all and bigger fish are caught every season. The biggest browns here usually exceed 10 pounds and specimens of up to 13 pounds have been taken. Streamers seem to work best early on but very soon the big flies fade a little and weighed nymphs fished upstream with strike indicators take center stage. During the summer, warm sunny days may create perfect conditions for dry fly fishing and large fish may come tothe surface for caddis or bibio imitations. 
We recommend single hand 4 to 6 weight rods with floating lines. Longer leaders from 12 to 15 foot can be useful in your presentation to large trout in slower water. Generally it is not advisable to use tippets lighter than 4x.
Flies: Bibio Hopper, Black Hopper, Black Gnat, Hawthorn, on nº 12 to 16 hooks, Elk, deer hair caddis in hook sizes from 12 to 18, olive or black Klinkhamers in sizes 8 to 16, large stone fly imitations. Nymphs: pheasant tail, Prince, Flash Prince, gold bead hair's ear in hook sizes 10 to 14.
Anglers stay at a full service lodge next to the river. It is a no frills establishment with good cooking and basic rooms that are fine for a good evening's rest. The sitting room is nice and there is an outdoor jacuzzi.
Laxá in Mývatnssveit is located in northern Iceland about 1 hour away by road from the city of Akureyri. To get there guests generally fly into Keflavik International Airport. They the travel by road to the domesstic airport in Reykajvik where tehy can catch a direct flight to Akureyri where they are received by their guide and transferred to the lodge.  
Location: Laxa in Myvarnssveit is the very top beat of the river. It is located in northern Iceland just an hour away from the town of Akureyri by road.
Season: 5 de June to 15 de September.
Best dates: End of June to early August for dry fly fishing.
Nº of rods allowed: 6 to 10 depending on the datess.
Methods allowed: Fly.
Species: Brown trout
Note: Fishermen should be aware the Icelandic authorities require that any fishing equipment brought into the country be sterilized appropriately with a proper veterinary's certification. Sterilization of equipment may also be done at the airport.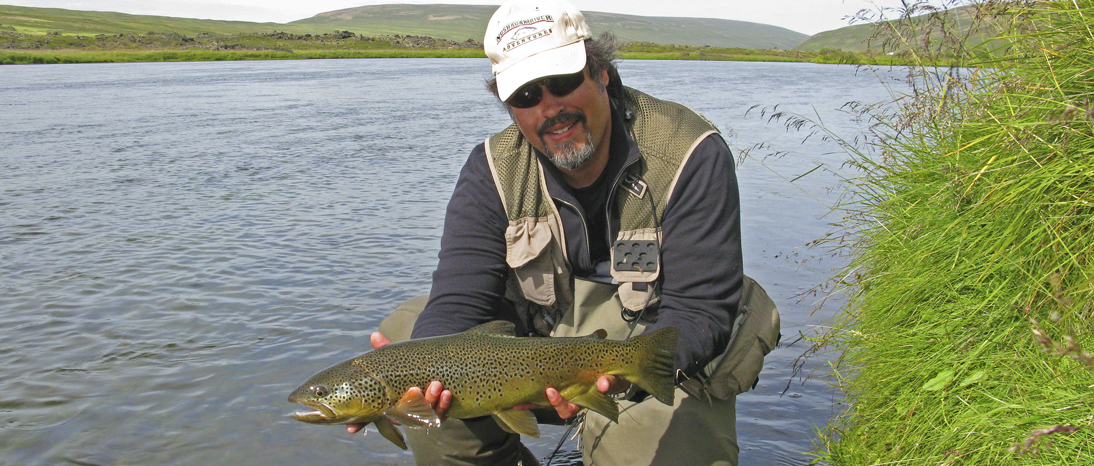 For a fly fisherman looking for big trout there are few destinations that compare. Also known as Laxá í Laxardal, this wide shallow beat consistently produces fish in the two to five pound range, often on dry flies.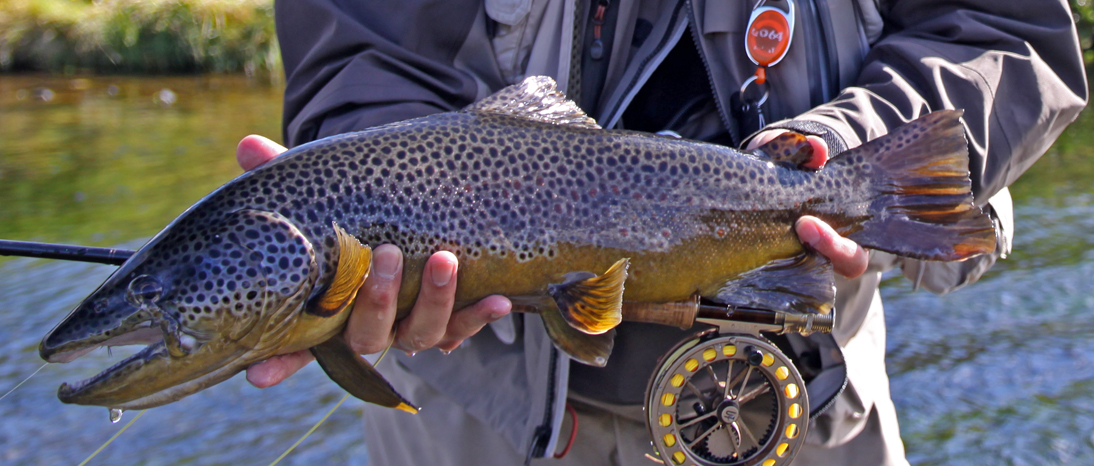 This small slow flowing meandering river is a genuine spring creek originating in several upwellings of subterranean waters. The brown trout here which grow to enormous sizes are said to come from a strain which has been isolated since the Ice Age. It is a very technical dr fly stream where large trout can be taken on very small dry flies and nymphs throughout much of the season and monsters of 20+ pounds are always lurking in its deeper pools.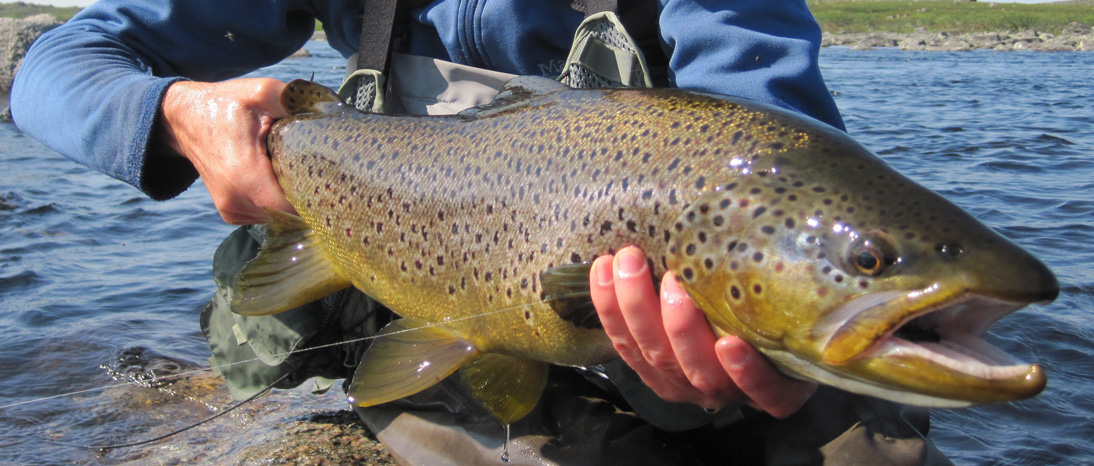 This is fly fishing for brown trout as you dreamt it: huge wild browns often on dry flies in a pristine river virtually untouched by man (other then the 12 fishermen who fish it during the summer from this camp). Lake Enozero serves as an enormous nursery producing huge migratory browns that distribute themselves throughout the river during the summer.