This wonderful little salmon river is one of our favorites because of its beauty, its proximity to Reykjavik snd its amazing productivity. The average annual catch for 2 rods fishing the river is between 200 and 500 salmon  for the 90 day season. In 2008 the Leirvogsá yielded a record of 1,173 salmon caught in addition to another 200 sea trout of good size. 
Indeed the Leirvogsá is an ideal choice for fishermen looking for a quality salmon river near Reykjavik. The Leirvogsá River is just 25 minutes away from the center of the city by road. Despite being so close to Reykjavik, the river is set in a scenic rural valley overlooked by Mount Esja. At is source it is just a small brook gurgling out of Lake Leirvogsvatn. From there it accumulates up water from a number of tributaries before reaching the Trollafoss Falls. These falls are unsurmountable to returning salmon and thus constitute the upper limit of the river's salmon waters.
Downstream from Trollafoss the Leirvogsá narrows as it passes through a canyon before the valley opens up again in the area near Hrafnhólar Farm. The fisherman's refuge is located here. In this area the river meanders along the valley floor providing numerous fine pools cut out by it's curves before it again enters a short canyon below the fisherman's shack. At the end of this canyon the river is once again transformed, this time into fast running rocky stream tumbling down to its mouth in the estuary. This last section is especially favored by bait fishermen. For several years worming was allowed only in this area. That said it does often provide fantastic fishing for wormers as its pools fill up with salmon newly arrived from the sea. In total the Leirvogsá River offers 8 kilometers of fishable salmon water from the falls down to its mouth for just two rods at a time. 
Six to eight weight one hand fly rods, with floating lines.
Effective flies include Red and Black Franceses,Collie Dogs Hairy Marys, Blue Charms, Munroe Killers, Undertakers,  Green y Red Butts in sizes 10 to 14.
Fishermen visiting the Leirvogsá River generally stay in Reykjavik or Mossfellsbaer. The river does not have a lodge for fishermen. However, there is a fisherman's shack to rest and have lunch during the day. .
Take Highway 1 north from Reykjavik. Just after passing the intersection with Highway 36 at Mossfellsbaer you will cross two rivers. The Leirvogsá will be the second of the two. Turn right just after crossing the bridge over the river. 
Location: 20 km to the northwest of Reykjavík following Highway 1.
Season: Last week of June to the end of September
Best Dates: Mid-July to mid-August
Nº of Rods Allowed: 2
Fishing Techniques Allowed: Fly and worm
Species available: Atlantic salmon, resident and sea-run brown trout
Note: Fishermen should be aware the Icelandic authorities require that any fishing equipment brought into the country be sterilized appropriately with a proper veterinary's certification. Sterilization of equipment may also be done at the airport.
In order to travel to Iceland, you should have a valid passport valid with an expiration date at least 6 months after the planned return date. A visa is not required for EU or US citizens.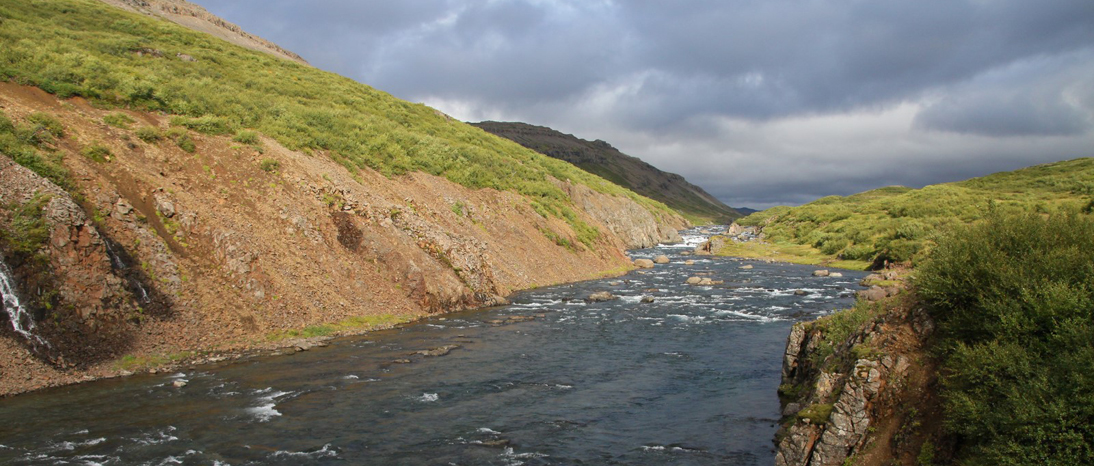 A fantastic grilse river with a wide variety of beautiful fly water ideal for fishing with one hand or switch rods. Every year it ends up as one of the top ten rivers in Iceland in salmon caught.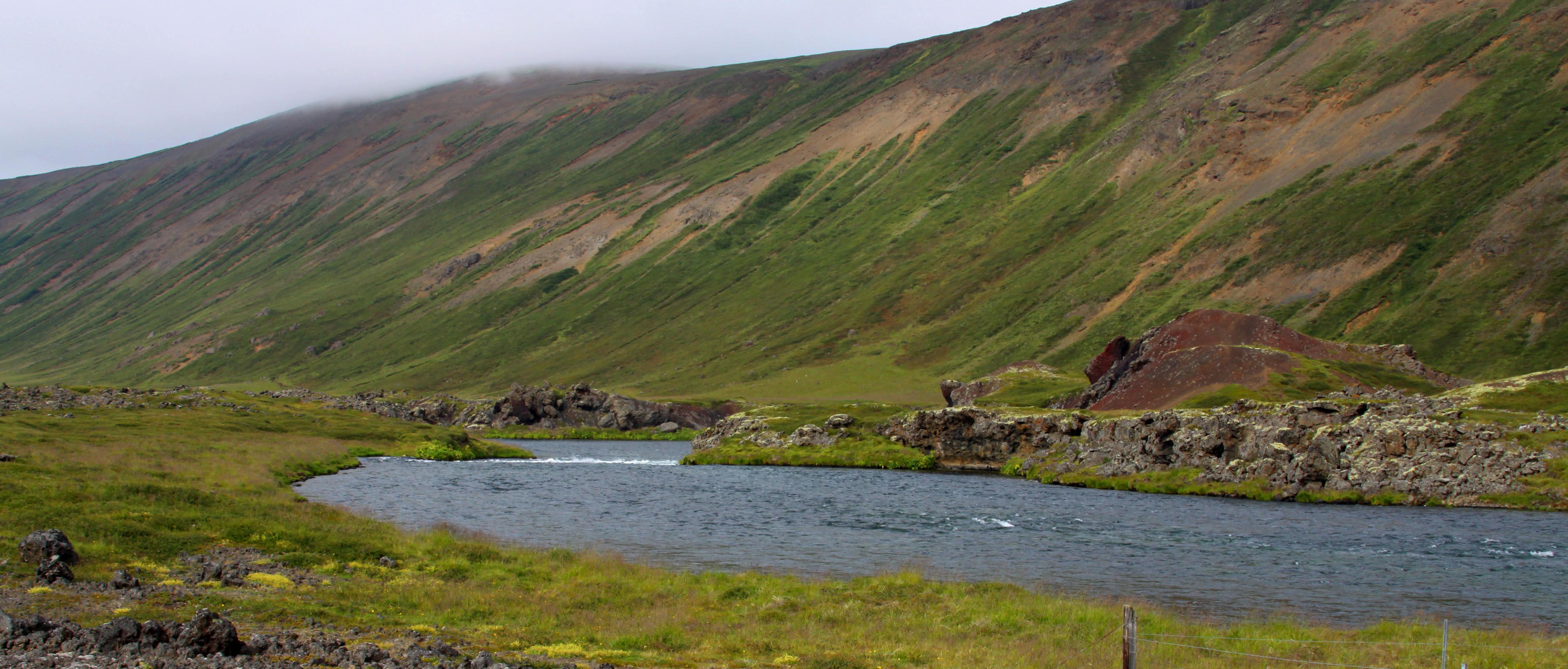 This beautiful little river on the west coast of Iceland has a fantastic average of around 1000 salmon caught on just 6 rods during an 80 day season. The majority if the fish caught are salmon weighing between 5 and 12 lbs, but every year fish in the 20+ lb category are caught.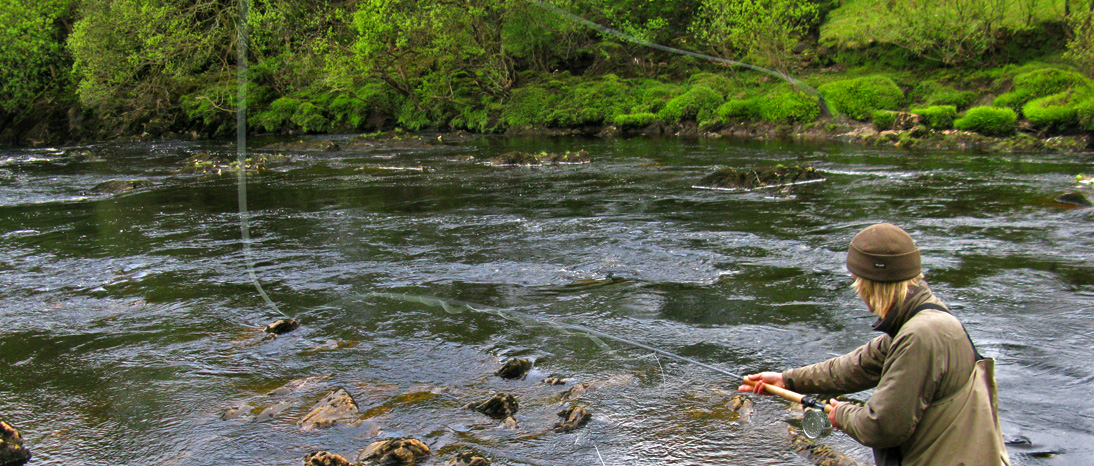 Salmon fishing in the River Finn is one of the best kept secrets in Europe. Until recently, the Finn was virtually unknown to European salmon fishermen. But the inauguration of the Glenmore Rivers Lodge in 2007 by Chris Demagery, ex-saxophonist of "Simply Red", has converted the river in Ireland's destination of reference among a hndful of privileged fishermen.