The Unalakleet River is a remote sport fishing destination on the east coast of Alaska just south of the Bering Strait. It is a fine river for chinook and chum salmon on the fly and one of the best places in Alaska to fish for silver salmon in fantastic numbers. The river almost always runs crystal clear over the dark bottom. With an average height of around 5 feet and an average width of around 70 yards, it is perfect forfly fishing. Because of its remote location far from any sport fishing operations and with no access by road, aside from other lodge guests the only other fishermen you will find on the river may be a few locals fishing for subsistance. In order to get to here guests will usually fly on a direct commercial flight from Anchorage to the native village of Ualakleet where they are received by one of the ldoge staff and transferred by boat to the lodge about 20 minutes upstream. 
In June fishermen enjoy fishing for chinooks and on even years numerous pink salmon. From around the middle of June until early August the Unalakleet offers great fishing chum salmon. August and September are prime months for silver salmon averaging around 10 lbs in size and sometimes running up to near 20 lbs. This is the most spectacular fighting fish of all the salmon, a delight to catch either on a fly rod or spinning gear. During peak dates we calculate that guest may catch an average of around 120 salmon in five days of fishing. For a change of pace, many fishermen will take a day to go fishing for dolly varden and large grayling on the dry fly with light rods. Mousing for big grayling can be a religious experience for some.
At the top of a hill with spectacular views of the tundra covered plains, rolling hills and forests below, sits the  Unalakleet River Lodge. This exclusive destination has become a favorite retreat of well-known personalities. They come looking to enjoy some of the best fishing away from civilization without renouncing the comforts of a great lodge. Famous guests include ex NFL player, Larry Csonka, Supreme Court justice, Sandra Day O'Conner and well -known corporate CEOs.  The Unalakleet River Lodge offers all of the conforts you would expect of a top lodge including cozy cabins with on suite bathrooms, individual heating, electricity and hot water 24 hours a day, a fabulous bar area in the main lodge with an area for smokers.
Fly Equipment: For King salmon, we recommend 8 or 9 weight one or two hand rod, with a weight forward line for the one handers or a scandi for two hand rods. You will want to bring a selection of sink tips from intermediate to a type 6. For coho, sockeye and chum salmon we recommend one or two hand seven and eight weight fly rods with floating lines and a selection of sink tips. For dolly varden and rainbow trout bring a 5 or 6 weight rod with floating lines.
Flies for king salmon: Fat Freddies, large intruders, large bunny leaches and other leach variants in pink, orange, chartreuse, purple and blue Flies for cohos: well weighted streamers such as egg sucking leaches, wooly buggers, popsicles, flash flies, intruders in hot pink, orange, chartreuse, purple, black and blue or large floating flies such as bombers and polly wogs in the same colors.
Spinning gear: 9 foot spinning rods with 15 to 25 pound test line. Nº 2 or 3 Silver Fox spinners, Mepps Flying C's or Aglias, Dick Night or Pixie spoons in bright colors.
TheUnalakleet River Lodge can accommodates up to 14 persons in double or single cabins with on suite bathrooms, indivudal heating, hot water and electricity 24 hours a day. Meals are served in a large central lodge building with very comfortable lounge and dining area with beautiful views of the river below and a great bar where smoking is allowed!
The lodge is located on the banksof the Unalakleet River upstream from the village of Unalakleet, just south of the the Bearing Strait. To get there guests fly commercial air to Anchorage and conitnue on to Unalakleet on regularly scheduled local commercial flights. They are received by lodge staff who transfer them up river to the lodge by boat.
Location: The Unalakleet River is located on the west coast of Alaska just to the south of the Bering Strait. 
Season: June to September.
Best dates: June and July for king salmon and sockeye. Mid-June until early August for chum salmon,  end of July to mid-August for coho salmon.
Nº of rods allowed: N/A 
Fishing methods allowed: Spinning and fly fishing.
Species: Coho salmon, chum,  char, steelhead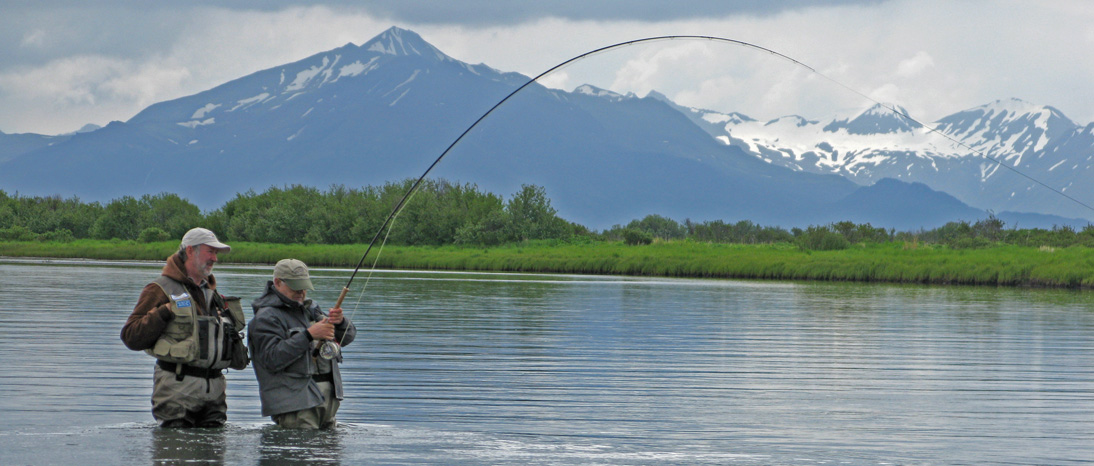 It is like going back in time to when fishermen had just discovered Alaska as a sportfishing paradise: incredible numbers of fish, wild untouched nature, beautiful scenery awithout a trace of civilization. This mixed program offers some of the hottest silver salmon fishing you will find on the home waters of Ocean River and fly outs to some of the other top rivers in the Peninsula for kings, chum and more.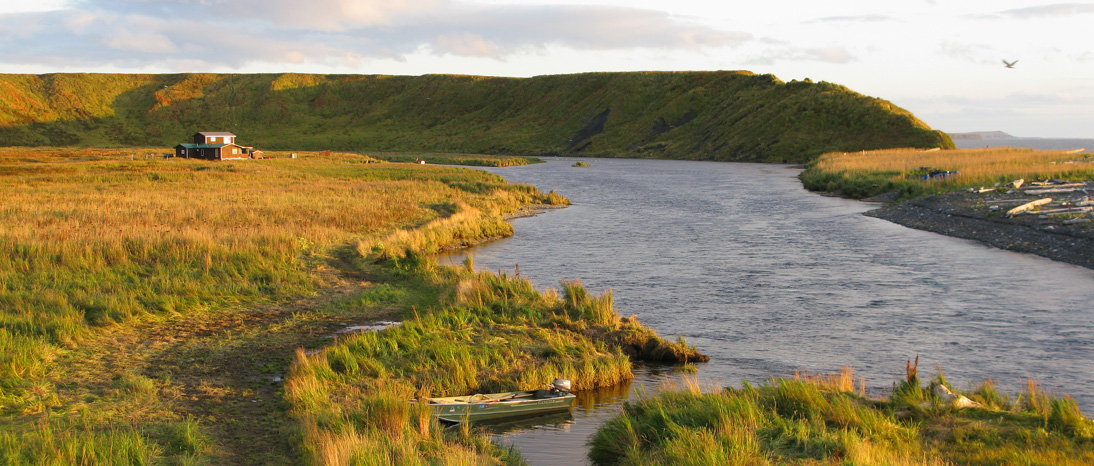 The best salmon river on the island of Kodiak. This is an ideal destination to sight fish for kings or cohos on the fly. It also produces some of the largest cohos in Alaska. Later in the season it also gets a decent run of steelhead. One of the extra benefits is that you will most certainly have the chance to do some bear watching.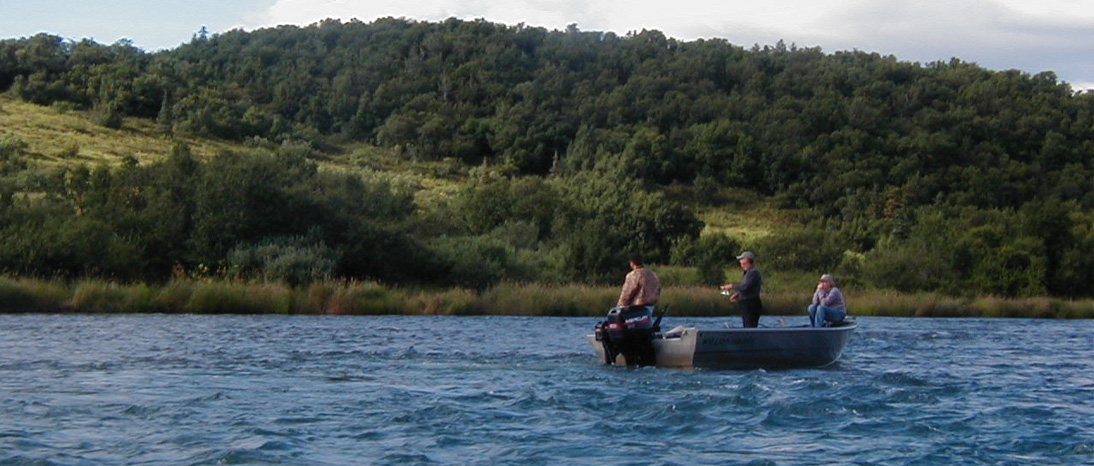 The Naknek is an extremely versatile river which offers excelent fishing for sockeye and silver salmon as well as huge rainbow trout. In fact, it is one of Alaska's best rivers for trophy size rainbow trout. Other species available include pink and chum salmon and a few kings as well as dolly varden and grayling.