Depending on the dates we will target the Kenai's famous gigantic king or chinook salmon, sockeye salmon, coho salmon (Silver) and or large feisty rainbow trout and dolly varden. However, for the trophy salmon fisherman, the name of the Kenai River is synonomous with one thing: enormous king salmon. Although its runs of king salmon may be smaller than those of other popular Alaskan rivers, the Kenai is without a doubt the best river in the world to catch the "salmon of your life." This is the river that produces the world's largest salmon and has yielded fish that surpass the 100 pound mark. However, the rod caught record remains at 97 pounds, with a king caught by local fisherman, Les Anderson in 1985. It is not uncommon for our guests to hook fish in the 25 to 35 kilo range.
The fishing season for king salmon runs from mid May until the end of July. During the months of June and July, the river also receives one of the largest sockeye runs in all of Alaska. This is the moment in which the kenai becomes the most popular fishing destination in the entire state. By the middle of August we can count on good fishing for fresh silver salmon, complemented with hot action for rainbow trout and dolly varden that concentrate to feed on salmon eggs and flesh. In fact, many local fly fishermen only fish for the huge rainbows and dolly vardens in the Kenai. Rainbows and dollies in the 5 to 10 lb range are commonplace and the Kenai provides excellent chances for trophies of 10 to 20 lbs. A little known secret is that the river at times can also provide hot action on dry flies. 
For your stay at the Kenai, you have the choice of lodging at Great Alaska's comfortable three star lodge or a tent camp. The Great Alaska Lodge, is one of the most famous lodges in all of Alaska. It offers excellent double rooms with fireplace and private bath. The lodge program offers the maximum flexibility in planning each day of fishing. The fish camp program offers more of the "wilderness experience" on an economy budget. The stay is in roomy double tents with all meals included and a mix of guided wade fishing with boat outings.
Coho salmon, sockeye, trout and dolly varden: Six to eight weight fly rods (with sink tips for streamers). Flies include egg sucking leaches, wooly buggers, flesh flies, etc. Nine foot spinning rods with 15-30 gr action good reel with a dependable drag system loaded with 200 yards of 12 lb test line. Lures: Nº 2 Silver Fox in bright colores.
Chinook (King) salmon: Nine to 11 weight single and double handed rods with heavy sink tips of 400 to 600 grains and 200 meters of backing.
Flies: simple streamers, intruders and bunny flies in varied colors including pink, red, purple, chartreuse and black in very sharp size 2 to 0 hooks. Nine to twelve foot spinning rods with 30-60 gr. action and good reel with an excellent drag system loaded with 300 meters of 25 to 30 lb test line.
We work with a couple of good lodges right on the Kenai River for full service pacakges but we can also organize a hotel or motel stay for guests contracting independent guide service through us. Guests also have the choiuce of lodge  stay in comfortable double rooms with a fireplace and private bath. At the lodge they  may enjoy daily happy hours at the bar in the main lodge. Meals are served in a large dining room in the same building. 
The Kenai River runs through much of the northrn part of the Kenai Peninsula. To get there, most visitors fly in to Anchorage and drive or catch a shuttle van out. It is beautiful drive around Cook Inlet and into the Kenai Peninsula that takes about one hour and a half. 
Location: The Kenai River runs through much of the northrn part of the Kenai Peninsula, which lies to the south of Anchorage.
Season: May to Octuber
Best dates: For king salmon and sockeye salmon: June & July. For coho salmon & rainbow trout mid-August to mid September. 
Nº of rods permitted: EThe largest lodge we work with can accommodates 36 persons comfortably.
Fishing techniques allowed: Spinning or fly
Species: Chinook (king) salmon, sockeye salmon, coho salmon, pink salmon, rainbow trout, dolly varden
The Kvichak is one of North Ameica's legendary trout rivers. The rainbow trout become huge here gorging on the eggs and flesh of the millions of sockeye that return to the river every year to spawn.
The Naknek is an extremely versatile river which offers excelent fishing for sockeye and silver salmon as well as huge rainbow trout. In fact, it is one of Alaska's best rivers for trophy size rainbow trout. Other species available include pink and chum salmon and a few kings as well as dolly varden and grayling.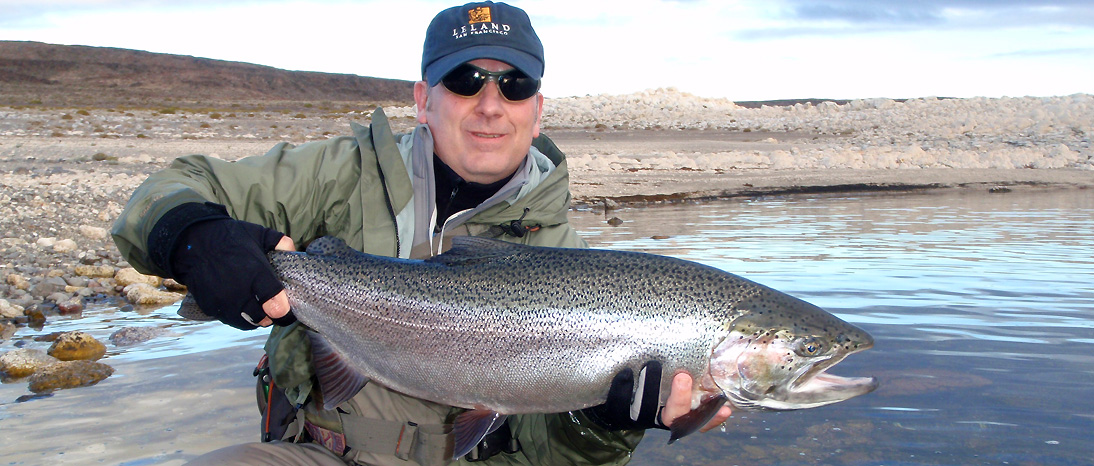 There is a growing number of fly fishermen that consider Lake Strobel the best trophy rainbow trout destination in the world. Here 8 to 10 lb trout are just average and beasts of up to 25 lbs are real possbility on every cast.