Seychelles Fly Fishing – Alphonse Island
In addition to being one of the world's most exclusive island resorts, Alphonse Island is without a doubt also one of the world's finest destinations for bonefish on the fly. This small coral island in the middle of the Indian Ocean has a total of 3,6 kilometers of shore. A team of 14 professional guides have spent years exploring the waters around the island and perfecting techniques to catch the large bonefish and other species that inhabit them as well as those of nearby islands such as Sant Francois. Any of the guide team members is equally qualified to show beginners how to cast or to provide expert advice to the most experienced fly fishermen. Since the resort was opened, visiting fishermen have marvelled at size and numbers of bonefish. Over a three year period fishermen averaged over 20.00 bonefish caught per year. A number of IGFA records have also been broken at the resort. The Alphonse Island experience is simply everything one might dream that Seychelles fly fishing holiday could be!
Additionally, the island also has 38 all purpose boats including an excellent large boat available for blue water fishing targeting, sailfish, dolphin fish, wahoo and various species of tuna. Distances to get to prime fishing are minimum and guests often beginn catching fish just after leaving the lagoon.
Aside from the fishing, guests can also enjoy activities such as snorkeling or scuba diving in the incredible reefs that protect theisland or in the lagoon with its incredibly abundant sea-life. Other activities available include canoeing, sailing or windsurfing. This marvelously unique destination is ideal for fishermen looking to travel with their non-fishing companions.
The fishing center offers the use of all the necessary equipment for fly fishing as well as blue water fishing.
Alphonse is one of the world's most exclusive island resorts and fly fishing destinations, with a total of just 25 chalets and 5 executive villas on the entire island to accommodate guests. The thatched roof chalets are set on pillars with their own private verandas amd open air showers. They are beautifully decorated and equipped to offer unpretentious luxury. Each is elegantly furnished including comfortable king size beds, on suite bathrooms with bath tubs, air conditioning, minibar, international direct access telephone and international television. The resort has a community pool and an excellent restaurant featuring local Creole and international cuisine. The service is refined and discreet.
Guests fly into Mahe International Airport. Upon arrival they are met and taken to catch the one hour charter flight to Alphone Island.
Location: Alphonse is located in the middle of the Indian Ocean, 500 km south-east of Mahe, the capital of the Seychelles
Season: Second week of September – second week of May
Best dates: November – March
Nº of rods allowed: N/A
Fishing technique practiced: Fly as well as blue water trolling
Species Available: On the fly: bonefish, various types of trevally, milkfish, trigger fishand others. Blue water fishing for: sailfish, dolphin fish, wahoo, barracuda, bonito, various types of tuna
Note: All fishing is strictly catch and release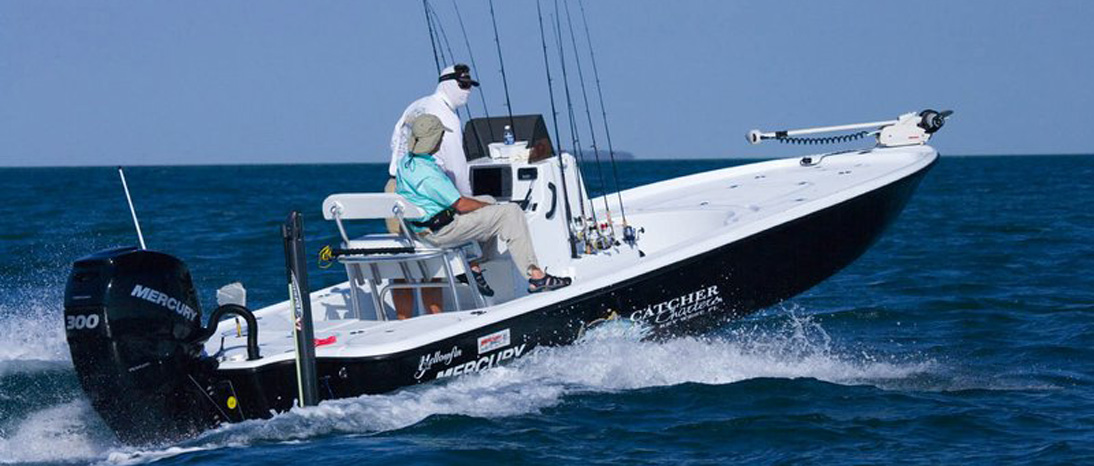 It is no accident that Hemmingway, a passionate saltwater fisherman, chose Key West as his personal hideaway to rest, write and fish, He kept a home here for 30 years. The magic of the Keys continues to draw fishermen from all over the world, especially to fish for tarpon and bone fish.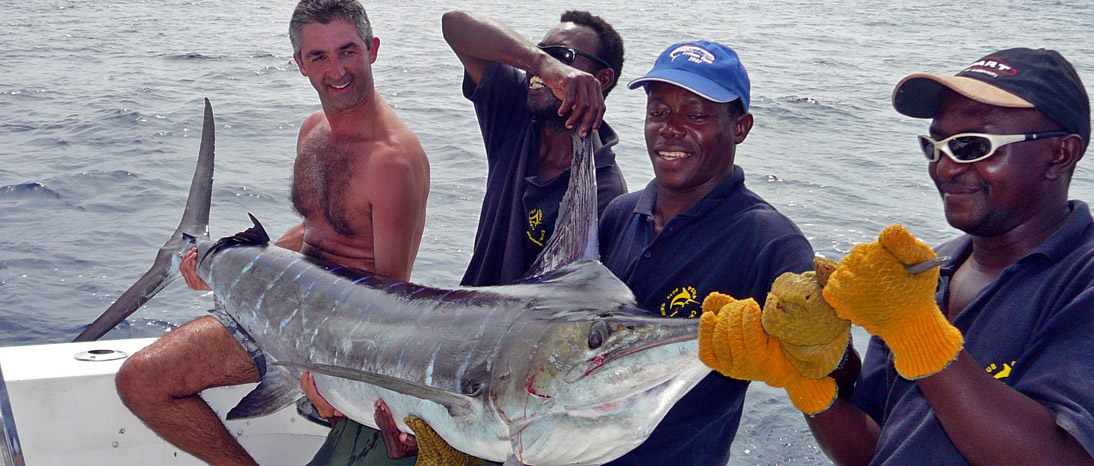 The Pemba Channel in Kenya us known as the best place in the country for big game fishing, but it is probably also the best destination in all of Africa. Our partner in Kenya, the Pemba Channel Fishing Club has an excellent reputation especially for marlin fishing. In fact, over 60% of the marlin records in Kenya and 7 IGFA all Africa records are held by the club.
The area around Quepos is protected from winter winds which are typical of the northern Pacific Ocean favoring the fishing throughout the season. December to July is the best time of the season for sailfish, while the best fishing for marlin is between December en February. The fishing offering is rounded out with rooster fish, wahoo, dorado, yellow fin tuna and more.